The Blue Train: a once in a lifetime journey
Advice on how to get the most out of your travels!
Great For:
Scenery
Food and Wine
Mingling
Overall Rating (4/5)
On a recent vacation to South Africa, my husband and I were lucky enough to ride the Blue Train from Cape Town to Pretoria (outside Johannesburg). This once in a lifetime journey is on many people's bucket lists so I feel honored to have been able to tick it off! Seeing that we were the youngest passengers, by a couple of decades, I now have a new found calling to promote the concept of luxury train travel among my fellow Millennials! Read on for more details about this luxuriously relaxing way to spend 32 hours.
See below for a detailed account of the journey; use the links to jump ahead to a specific section.
Leave all your cares and worries aside the second you approach the welcome lounge for the Blue Train. A pleasant staff member will greet you, retrieve your baggage and escort you down the elegant blue carpet. Note that if you are leaving from Cape Town, the station was under construction (May 2016) and our driver needed to ask a few folks before finding the Blue Train lounge. Be sure to budget an extra 10 minutes for this reconnaissance. The scheduled departure is 8:30 am from Cape Town, arriving in Pretoria around 3:00 pm the next day.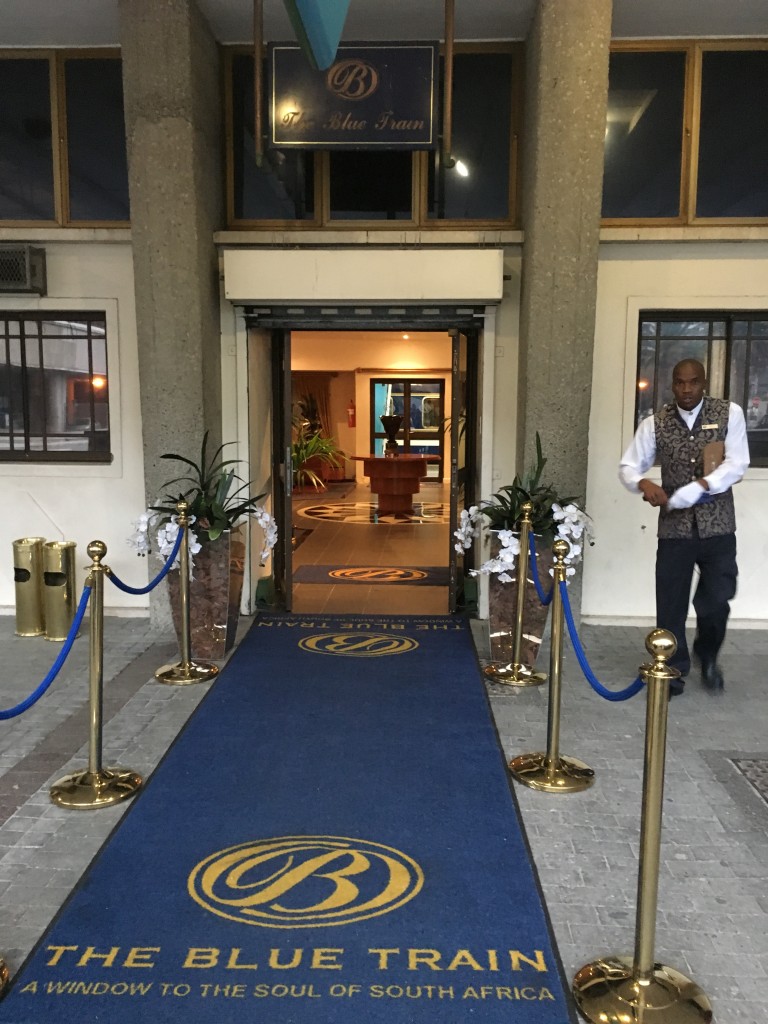 Once you enter the lounge you are literally treated like a celebrity! Be sure to take a glamour shot in front of the Blue Train backdrop.
After a short speech on train amenities and required customer attire (tie and jacket required for dinner) you finally board the train!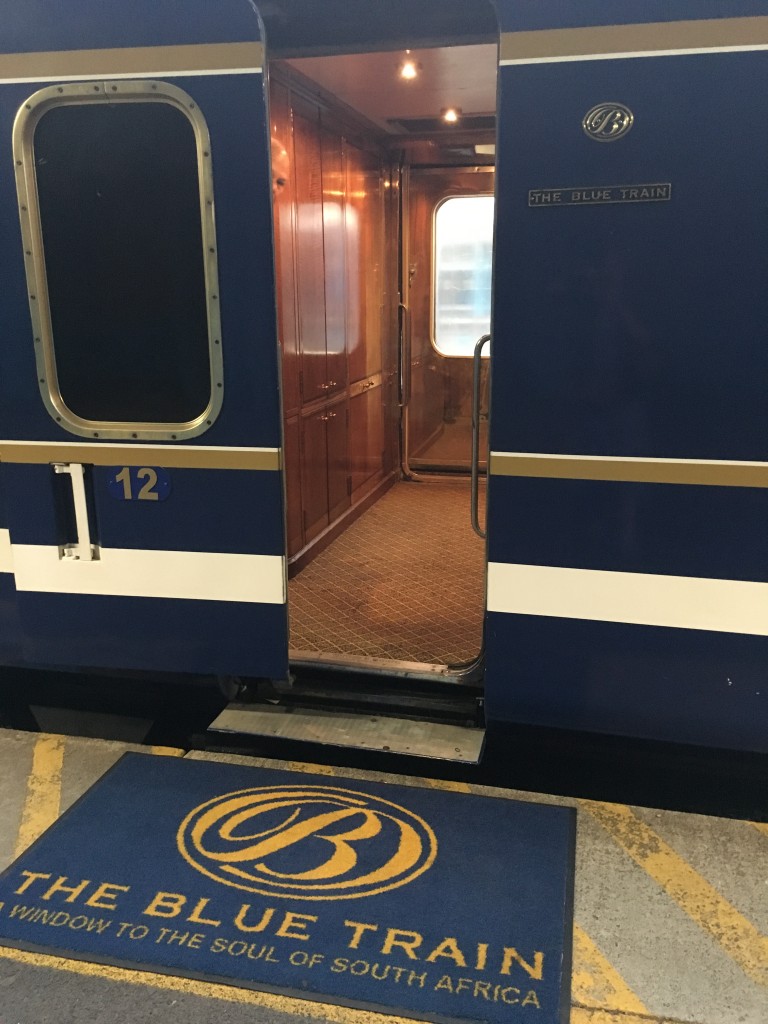 Once on board you will receive information in your compartment on all train amenities. Your personal butler will soon arrive to give you a tour of your compartment and take your reservations for lunch and dinner. We skipped the tour and ran into a few confusing moments (how do I put up my window shades?) but the answers were no more than a quick phone call to our butler away.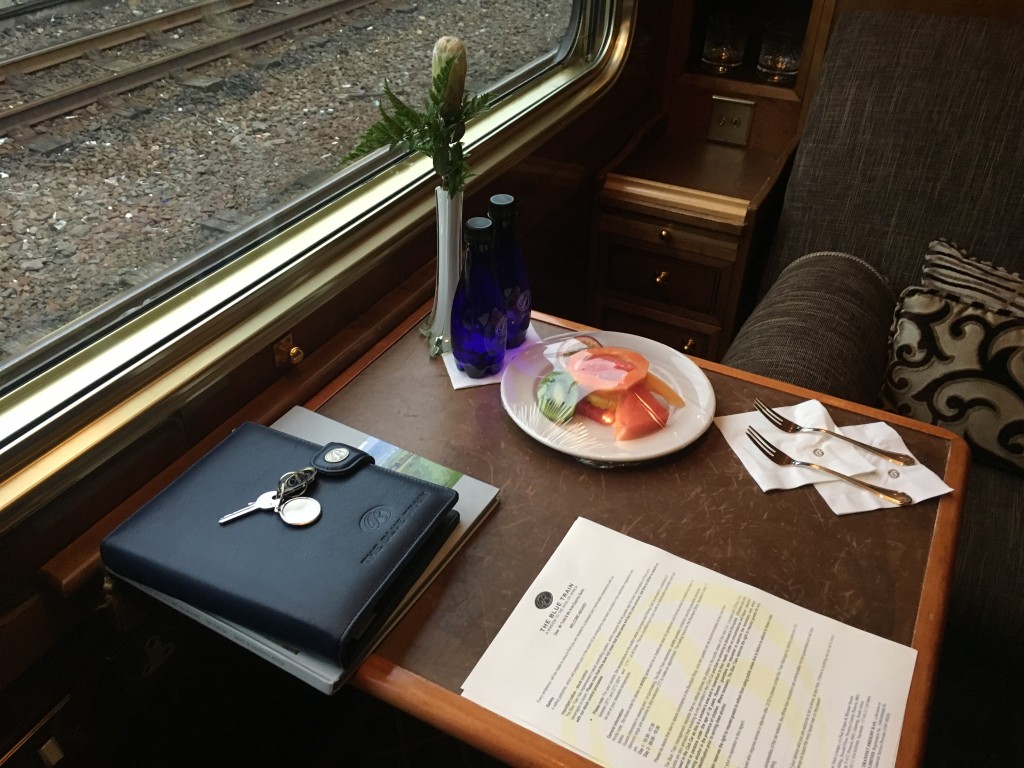 You will see your butler again at the end as he collects your baggage and you collect your farewell gift…and Blue Train Diploma! This per night cost definitely rivaled my private college tuition, so I was appreciative of the gesture.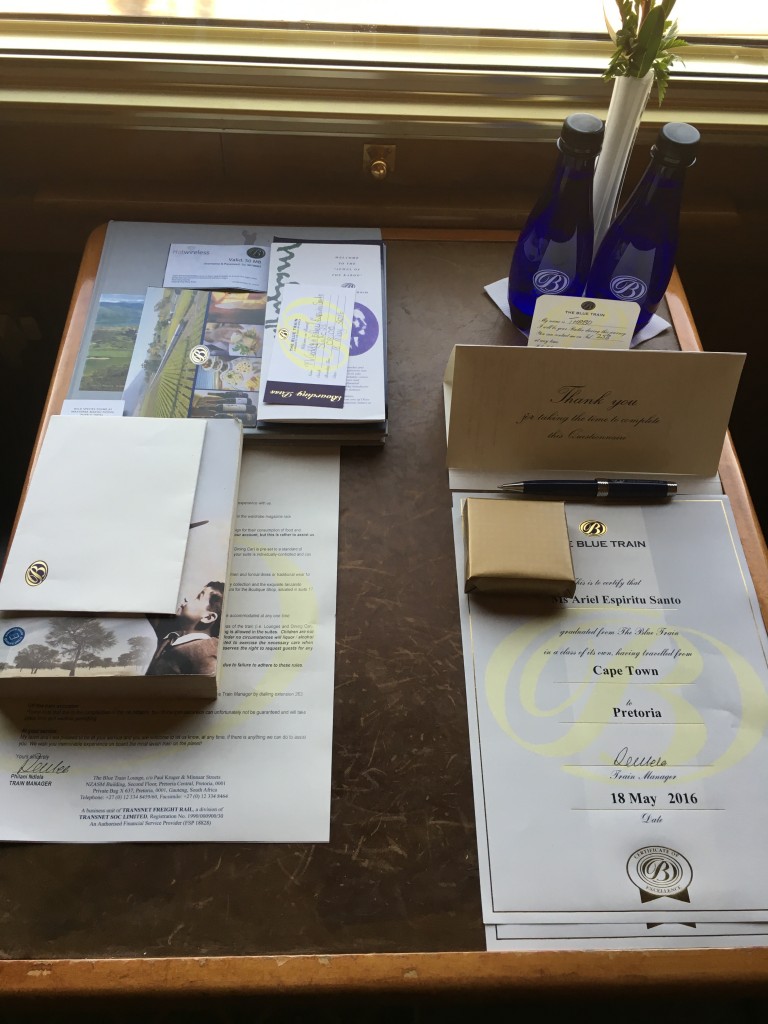 Time permitting, each journey includes an excursion on the afternoon of your first day. On the Cape Town to Pretoria route, that consisted of stopping in a tiny rail town and riding an old double decker bus around the block…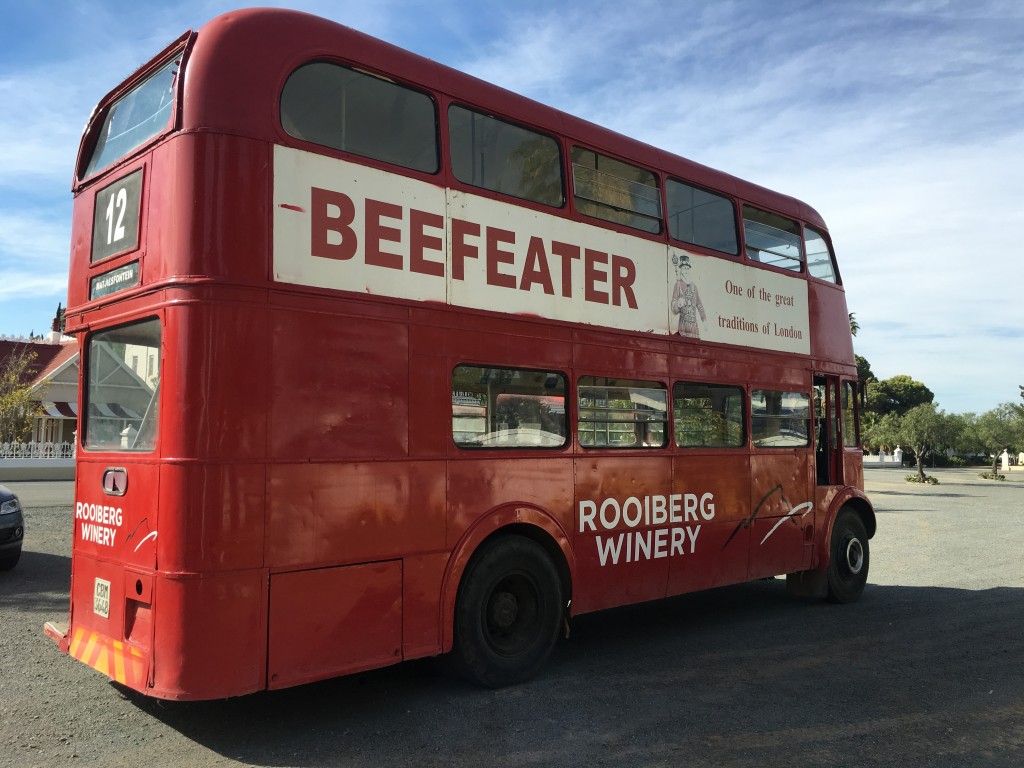 The journey from Pretoria to Cape Town stops for a visit to the diamond minds, possibly a bit more exciting? But again, the excursion is not the reason to ride this train.
It's now up to you to sit back, relax and try to regulate your food consumption….I may have overdone it a bit 🙂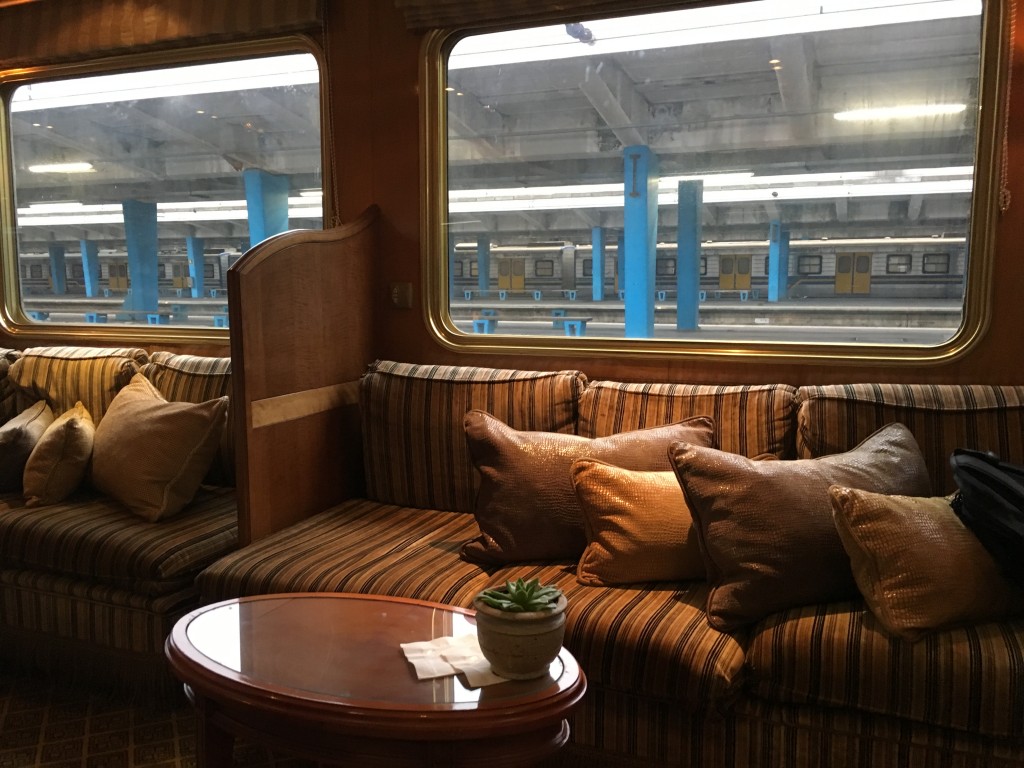 The train offers two classes of rooms, De Luxe and Luxury, we rode in the De Luxe, the smaller of the two types (by a meter). The De Luxe suites either come with a double bed or two twin beds. You can make a request for the type of bed you'd like, but your choice is not guaranteed.  I was very happy that our request for a double was fulfilled.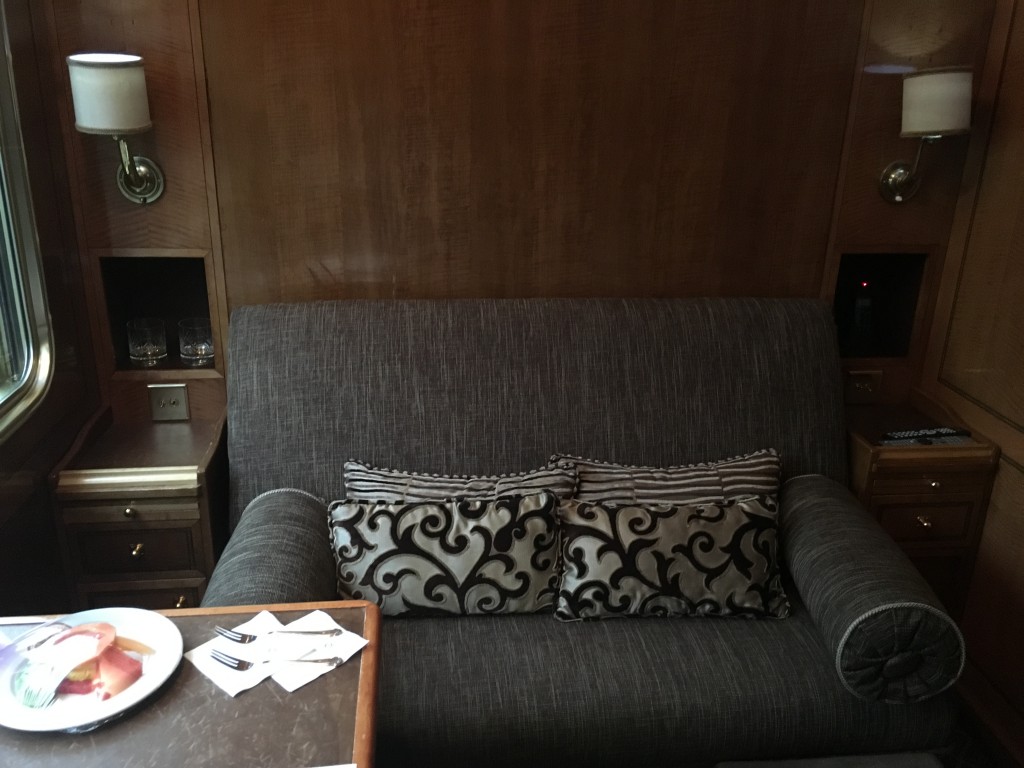 As mentioned earlier, there is a dress code for dinner. Thus, the inclusion of this fine closet was appreciated. You can imagine that my husband's suit was quite happy to be out of a suitcase after two weeks of travel. Strangely enough the suit was not needed on safari 🙂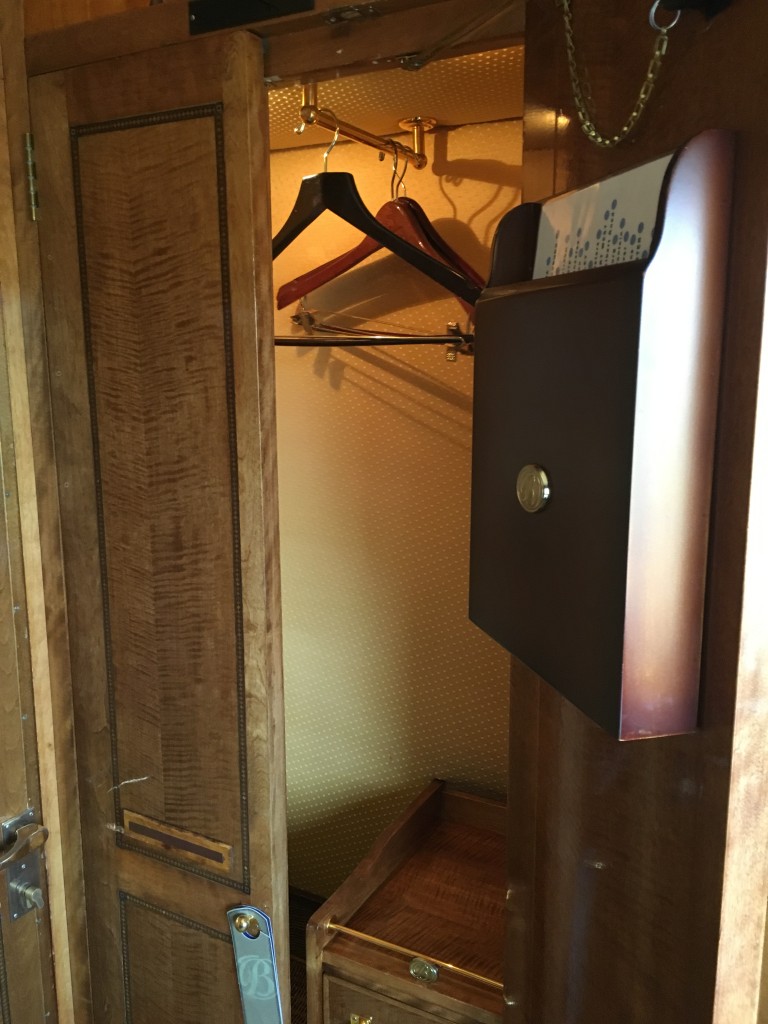 The real winner of the compartment, however, was the bathroom, emphasis on the BATH. Yes, I took a bath on this train! I definitely added "take a bath on a train while drinking a glass of cognac" onto my bucket list just so that I could cross it off.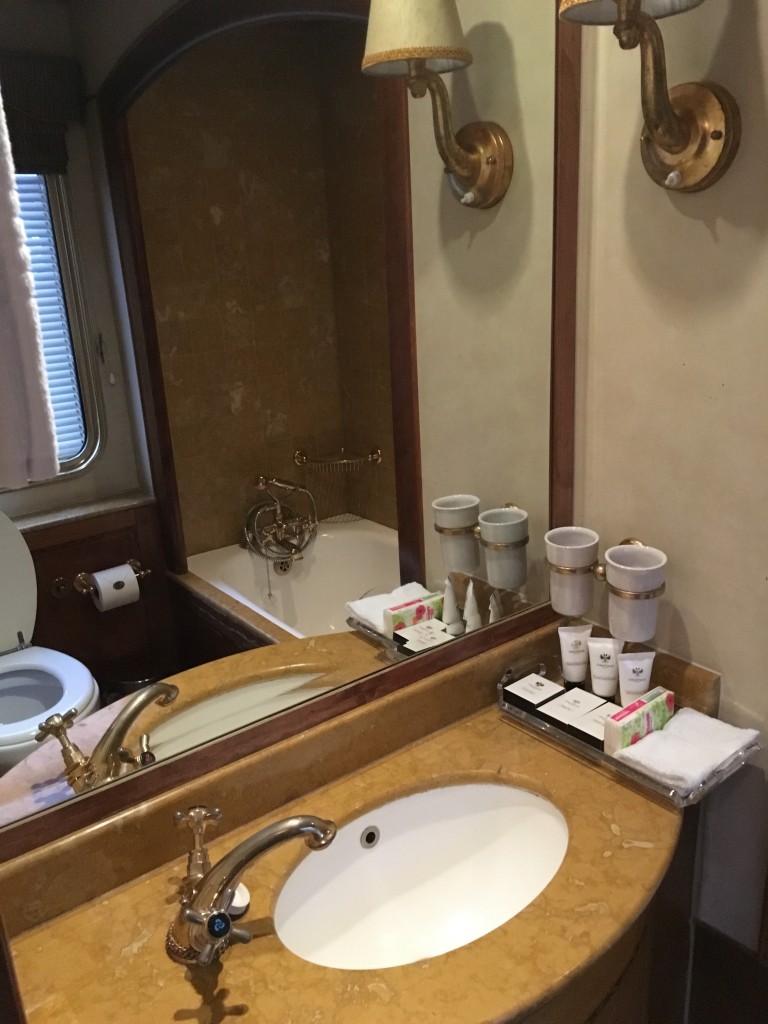 The bathroom was fully functional with a sink, toilet and high end toiletries.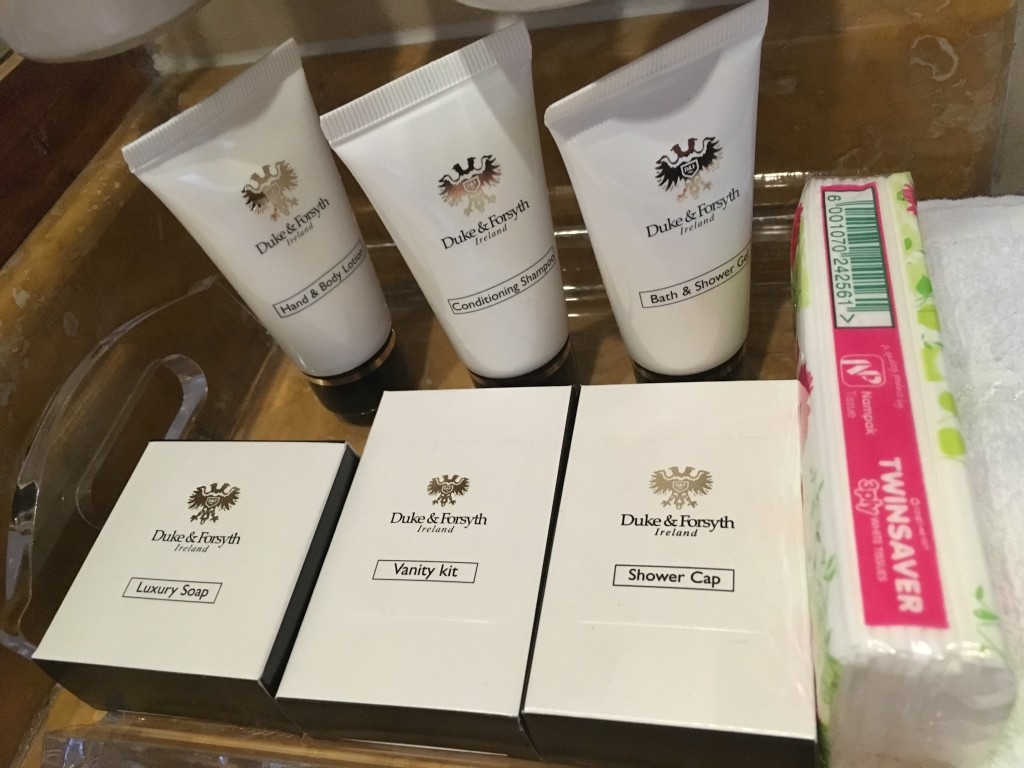 One more photo of that bathtub, it is just too much.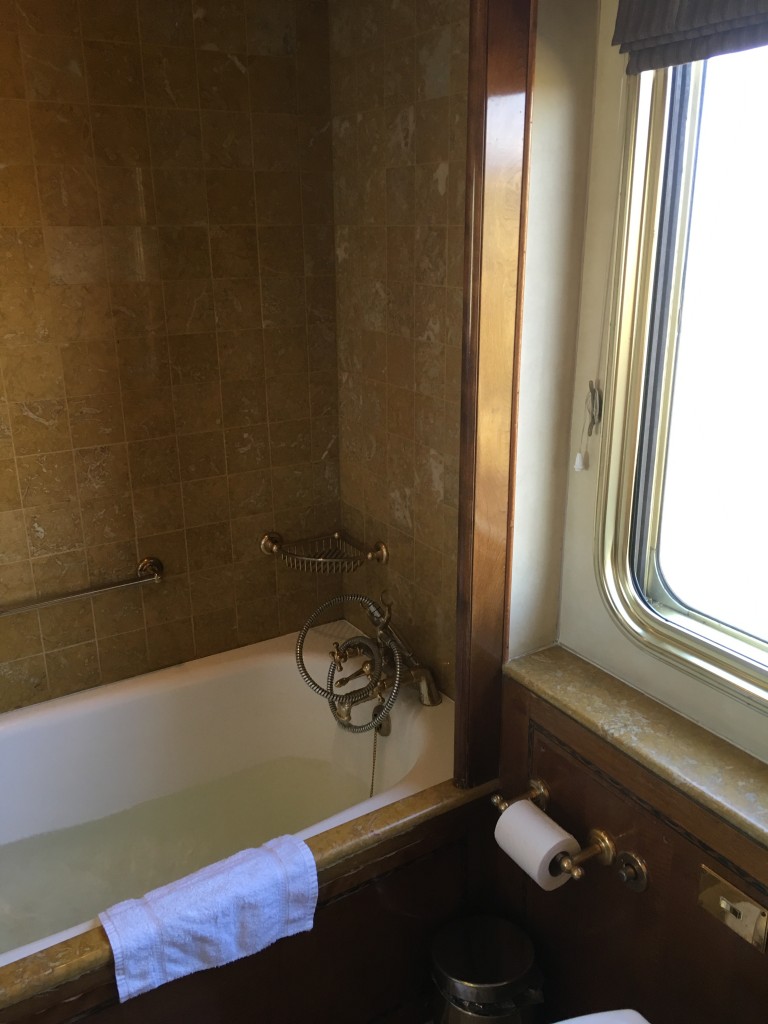 After dinner, we returned and our compartment had transformed into a bedroom! The bed was super comfy, however, the movement of the train was not exactly the gentle rocking I had imagined, it was a bit jerky and took some getting used to. Not the most restful night of sleep unfortunately. I bet on a multi-night luxury train journey you will get your "rail legs" and have no problem. Or perhaps have a second glass of cognac?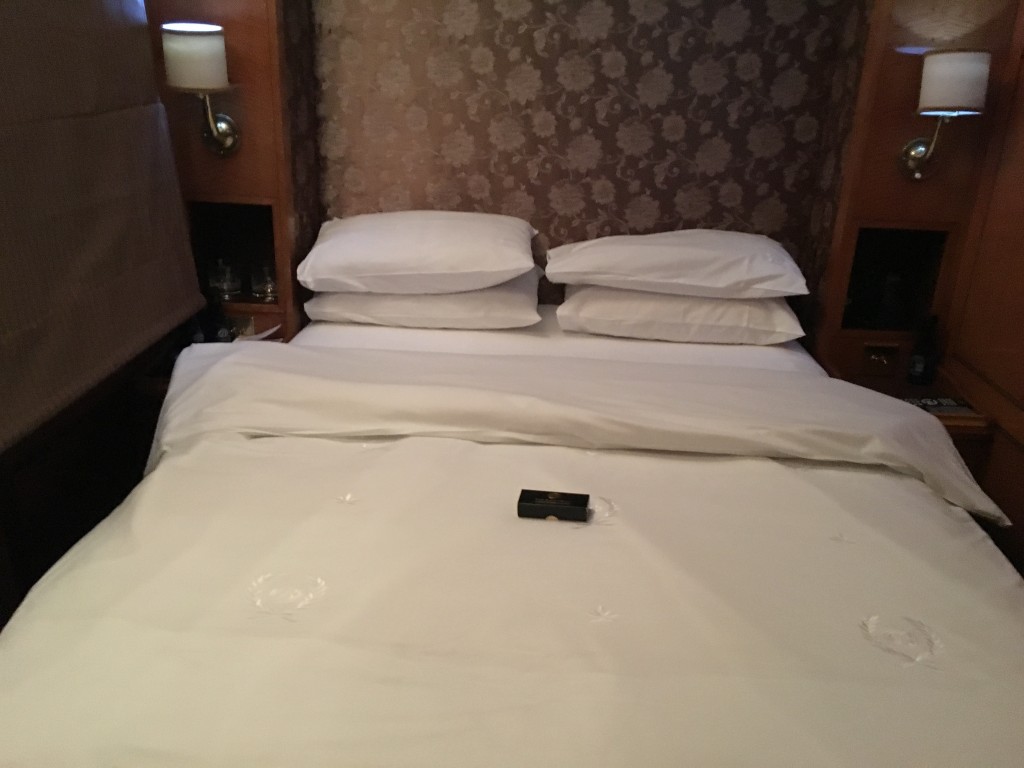 Note: The rooms claim to have wifi but don't depend on it; we were never able to get it to work. Who needs wifi anyway? You have a beautiful movie playing right outside your window.
Now to the good stuff, if I ever ride this train again I will be sure to fast for several days prior in order to build up an appetite for the massive amount of food and wine.
Meals were taken in the dining car, an elegant affair with ample flatware.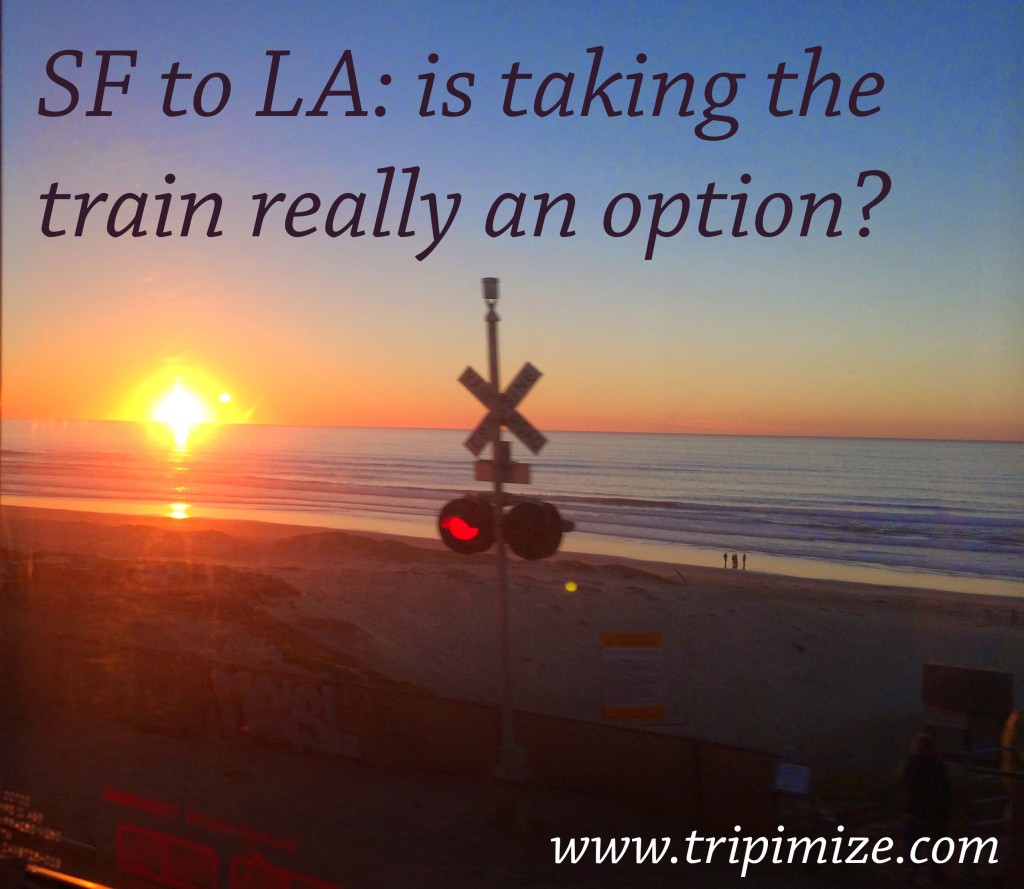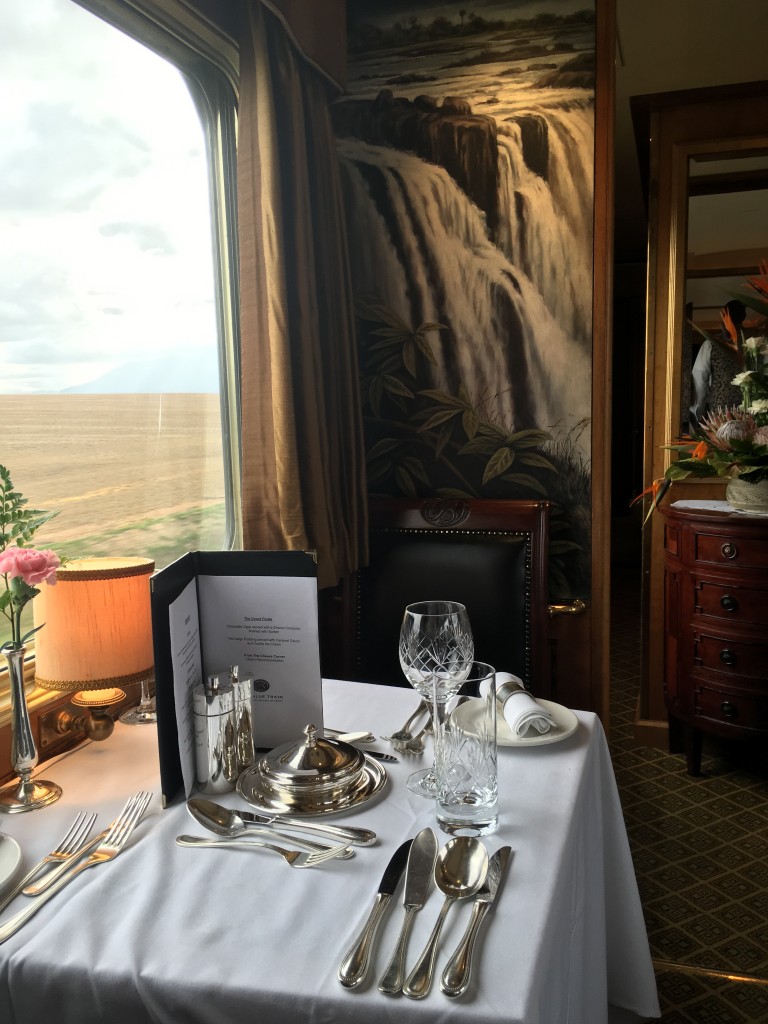 In between meals the bar car was always open and fully stocked.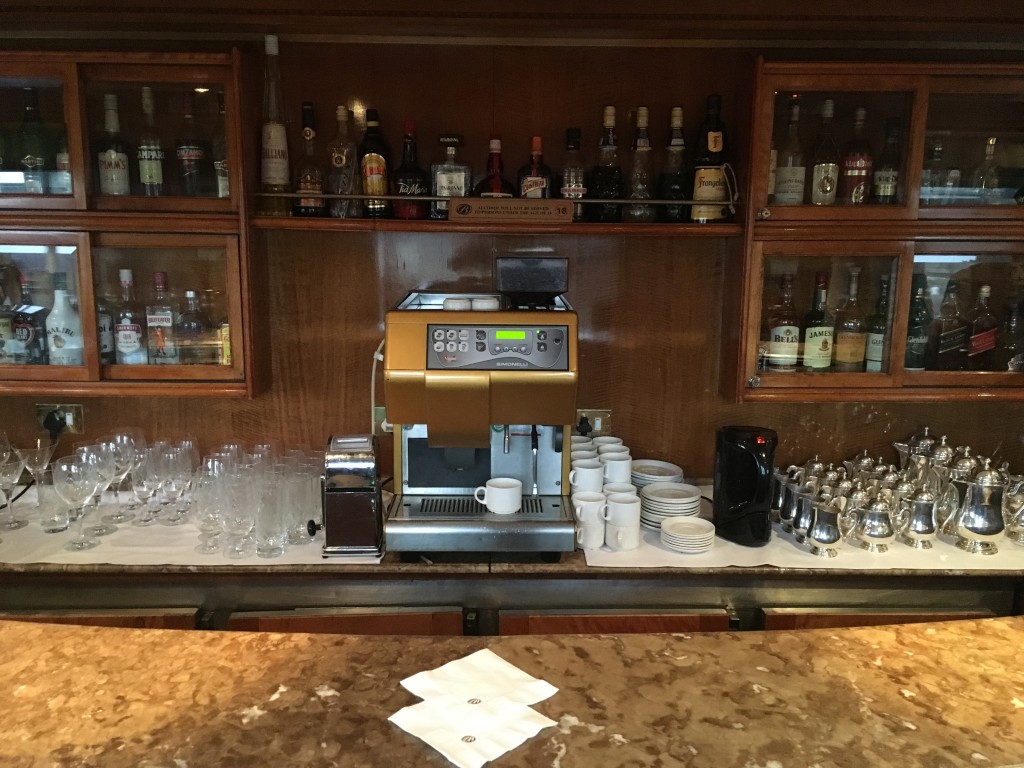 On to the specifics, spoiler alert! I am going to go into the food offerings in DETAIL.
After boarding the train, we sampled the pastries and donuts provided in the lounge car.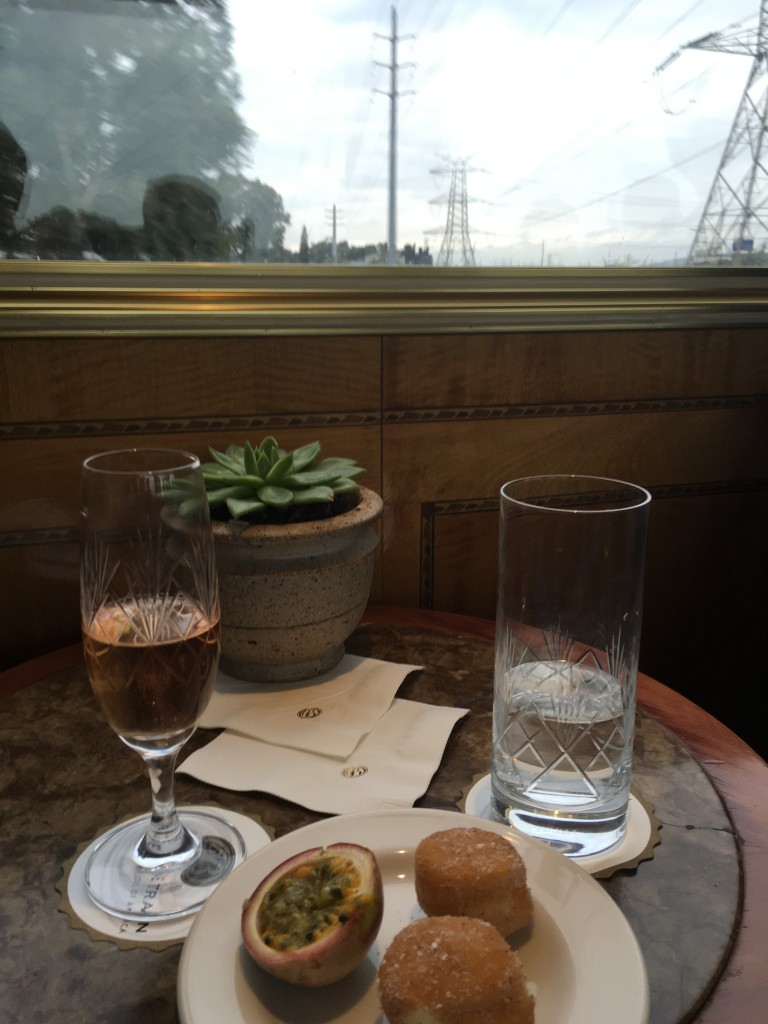 After an hour of getting to know our fellow guests and enjoying some celebratory bubbly, we moved to the dining car for our brunch reservation. In my opinion, brunch was the best meal of the trip. See below for the three course menu.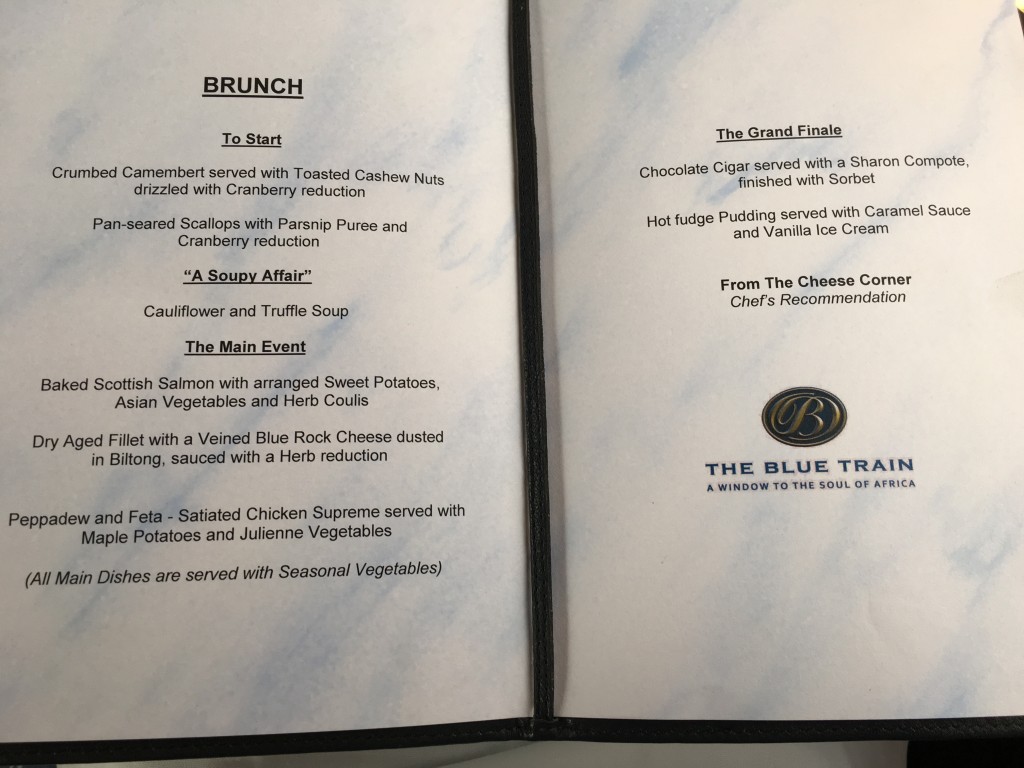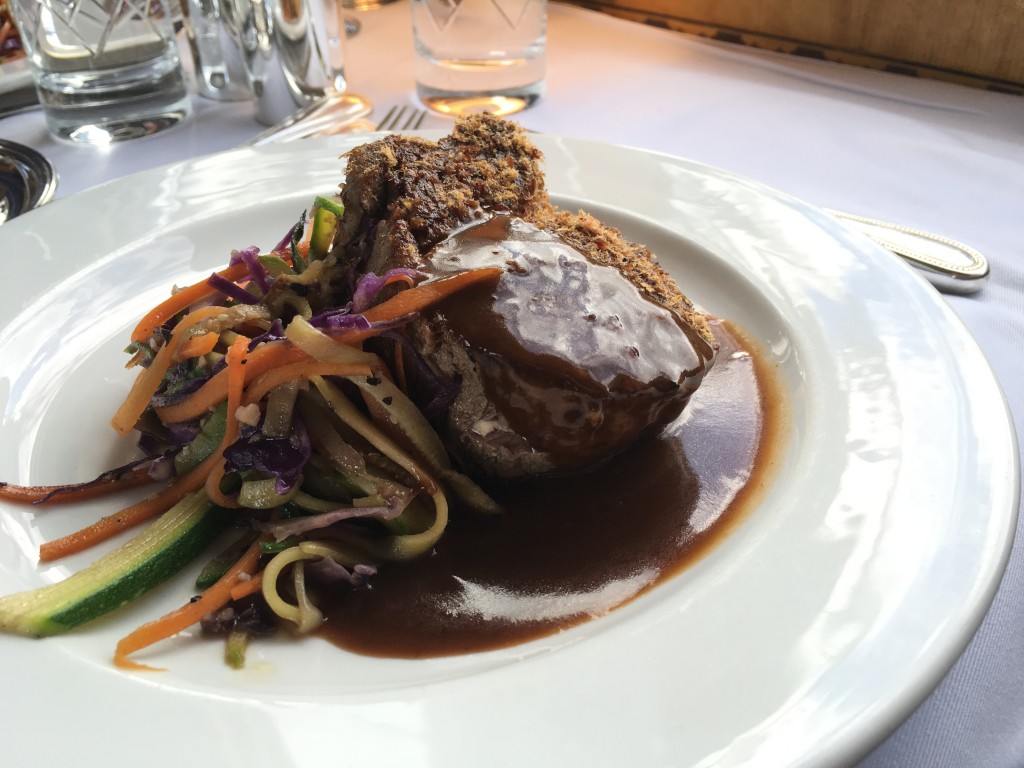 Because you will never stop eating on this train, a mid-afternoon high tea was prepared and ready in the lounge car around 3PM.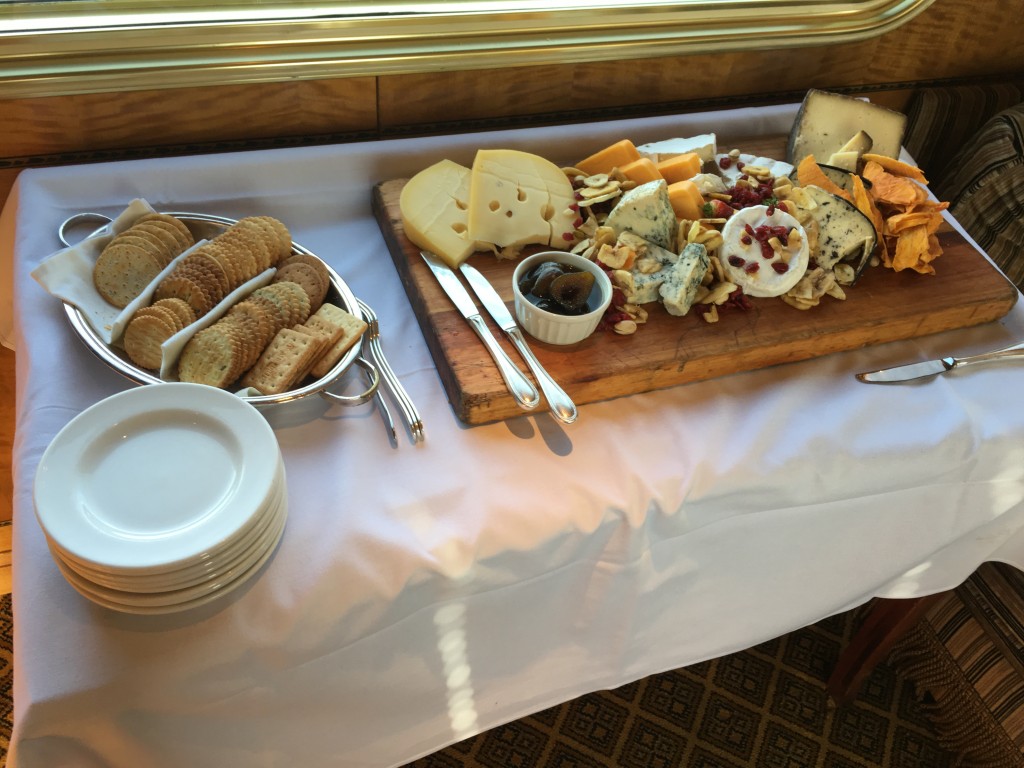 I'm sure dinner was just as spectacular as brunch, however, my poor stomach just couldn't handle anymore eating! I ate every morsel of brunch and couldn't resist that afternoon cheese tray. I somehow persevered and made it through at least trying all the dinner dishes. My dreams of mingling in the club car with fellow guests post dinner, however, were crushed as the energy to waddle back to my train compartment was all I could muster.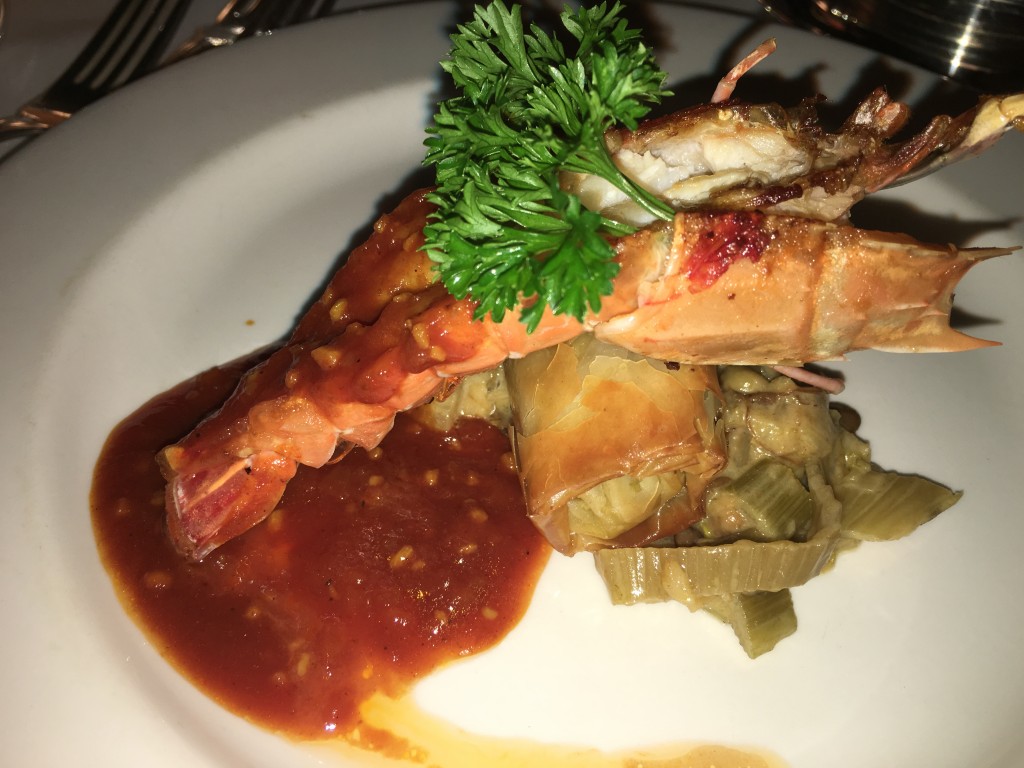 After some rest my stomach decided it was ready to get back in the ring with this beautiful continental breakfast spread.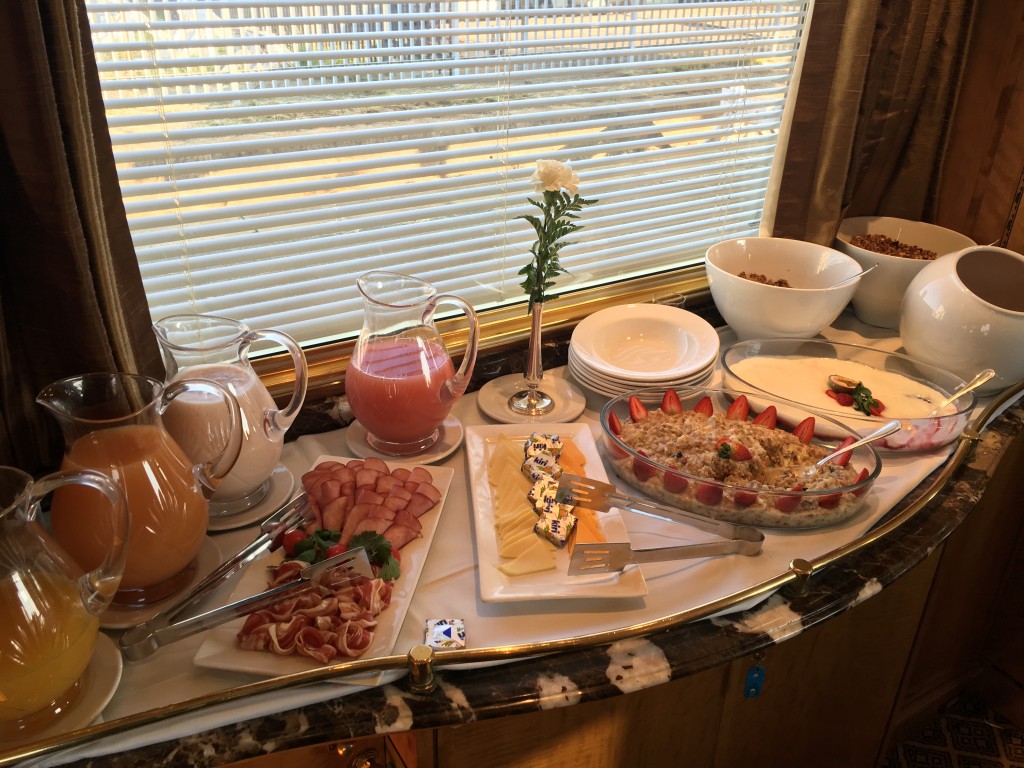 The breakfast menu was too much for us, my husband and I just ordered one item.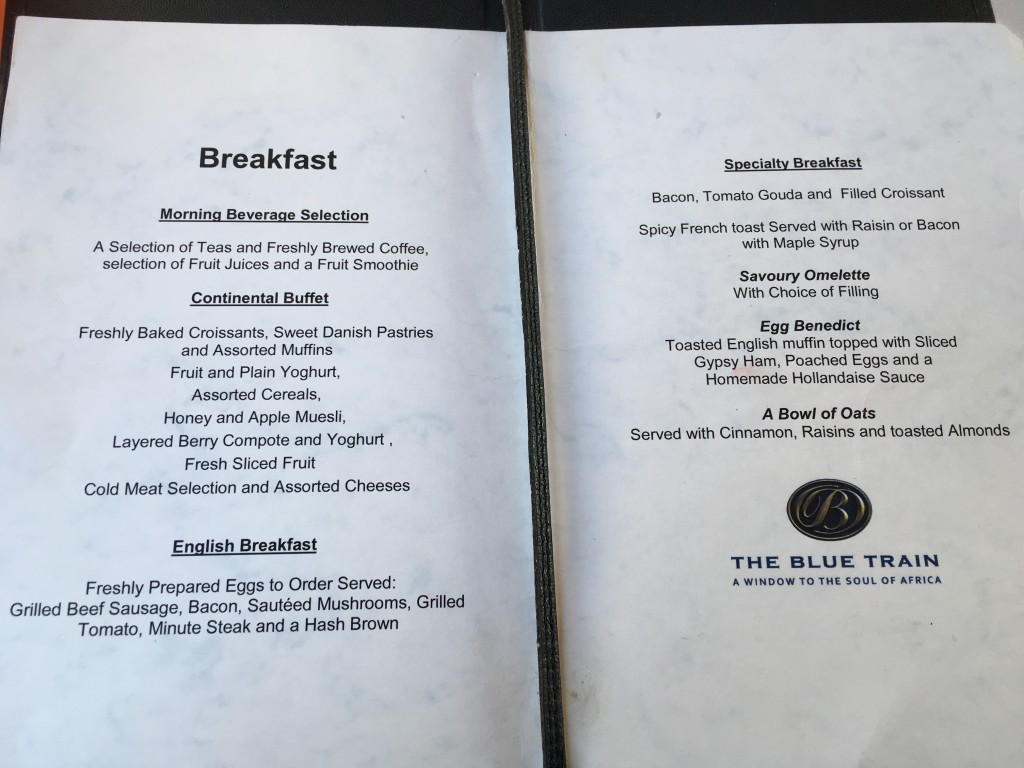 The final lunch was served in the lounge car and consisted of a variety of finger foods (sandwiches, chicken fingers etc.).
And of course, leaving the best for last…THE WINE! I think part of my issue was that I wanted to try every wine on the menu; our server was great and brought us little tastes paired with the dishes we ordered. In the end I made it through 80-90% of the menu!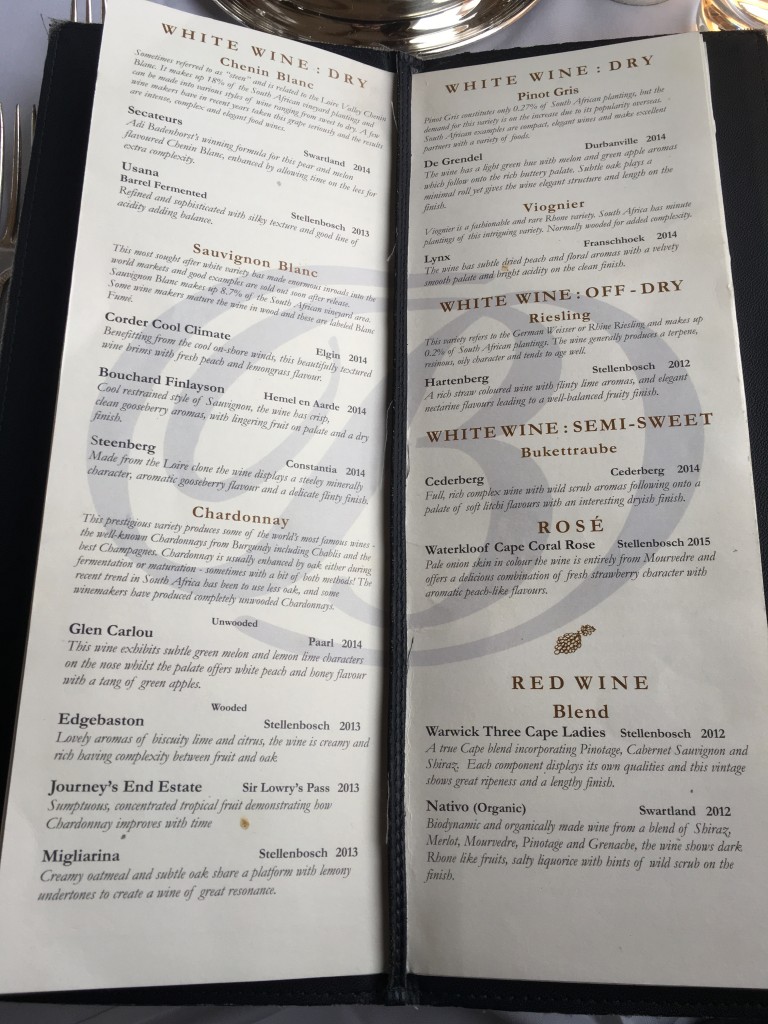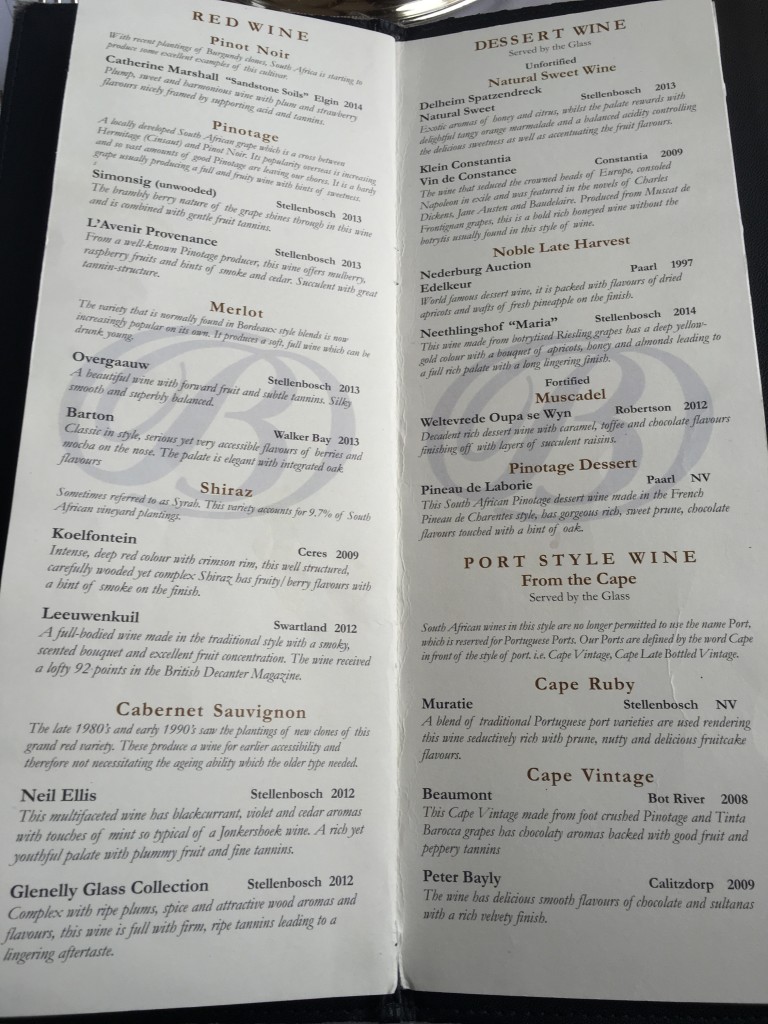 All in all, we really enjoyed our ride on the Blue Train. The biggest disappointment was that we arrived ahead of schedule, I was not ready to leave!
If you are interested in other train rides, check out my report on taking the Amtrak from San Francisco to Los Angeles.
Do you have any stories to share of luxury train travel?
Save