A Perfect Morning (Portland, OR)
Advice on how to get the most out of your travels!
Objectives
Go car-free!
Drink hipster coffee
Explore cool urbanism
Sometimes you don't have the luxury of spending many days in one city. The "Perfect Morning" posts provide examples of itineraries, spanning a few hours that efficiently capture certain aspects of a location in a short period of time. In this case, my husband had never been to Portland before, his top goals were to eat good food, drink overpriced coffee and get to walk through some of the cool urban parks that dot Portland's downtown.

1. Eat breakfast at Nuvrei Bakery
2. Stroll through Tanner Springs Park
3. Drink coffee at Heart Coffee
4. Shop at Powell's City of Books
5. Enjoy the Lan Su Chinese Garden
We stayed at a hotel downtown so the only transportation needed for the morning was our feet! Check out this link for my review of our hotel, The Nines Hotel.
Once we were done with our morning of exploration, we were easily able to jump on the TriMet light rail train, gaze out as we took it across the river and arrive back at my brother's house in Northeast Portland.
As with a trip to any city, the first thing my husband and I think about when planning our day is "where are we going to eat?". In this case there was no contest. I had been to Portland before and on the suggestion of my sister in law had eaten at Nuvrei, a bakery that I could not wait to take my husband to.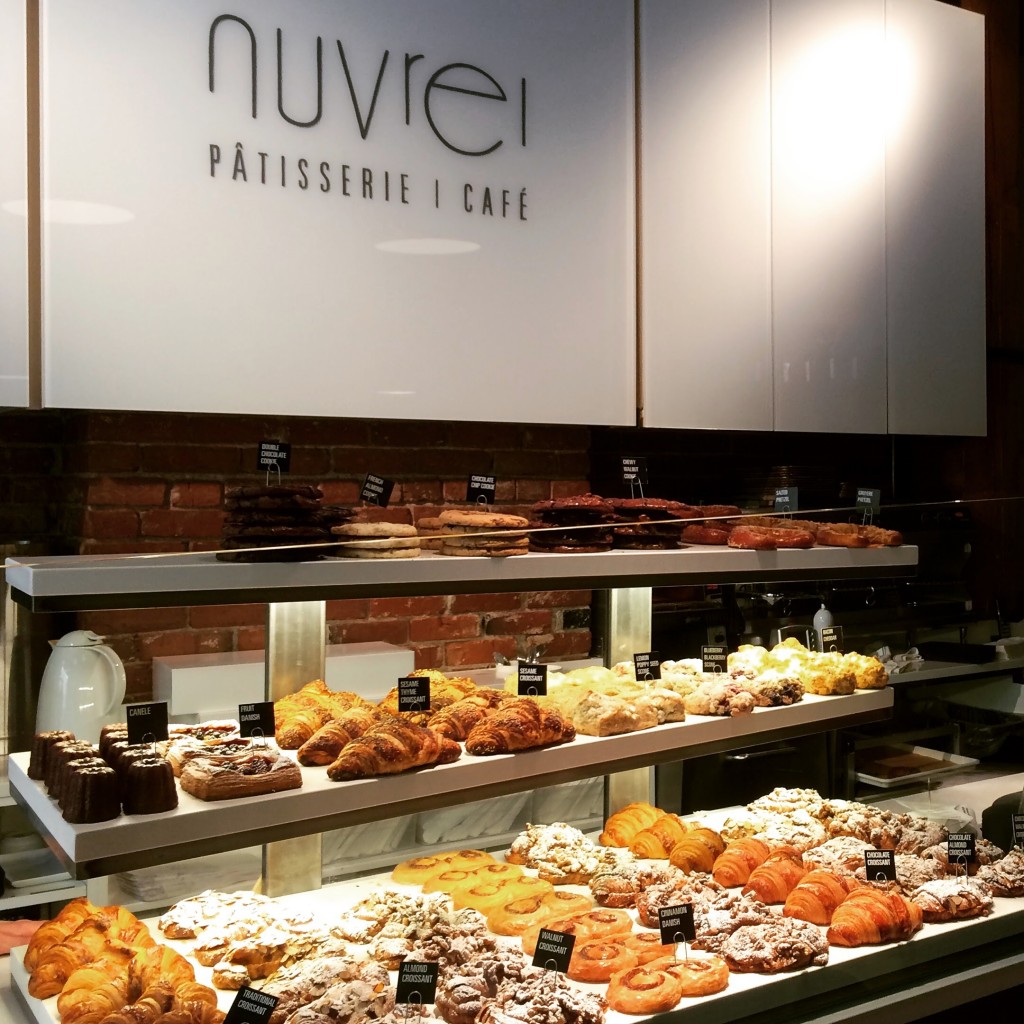 Nuvrei is located in the trendy Pearl district, a 15 minute walk north from the hotel. The hardest part about breakfast was holding out on the caffeine. We needed the full coffee experience and that would have to be a stop of it's own.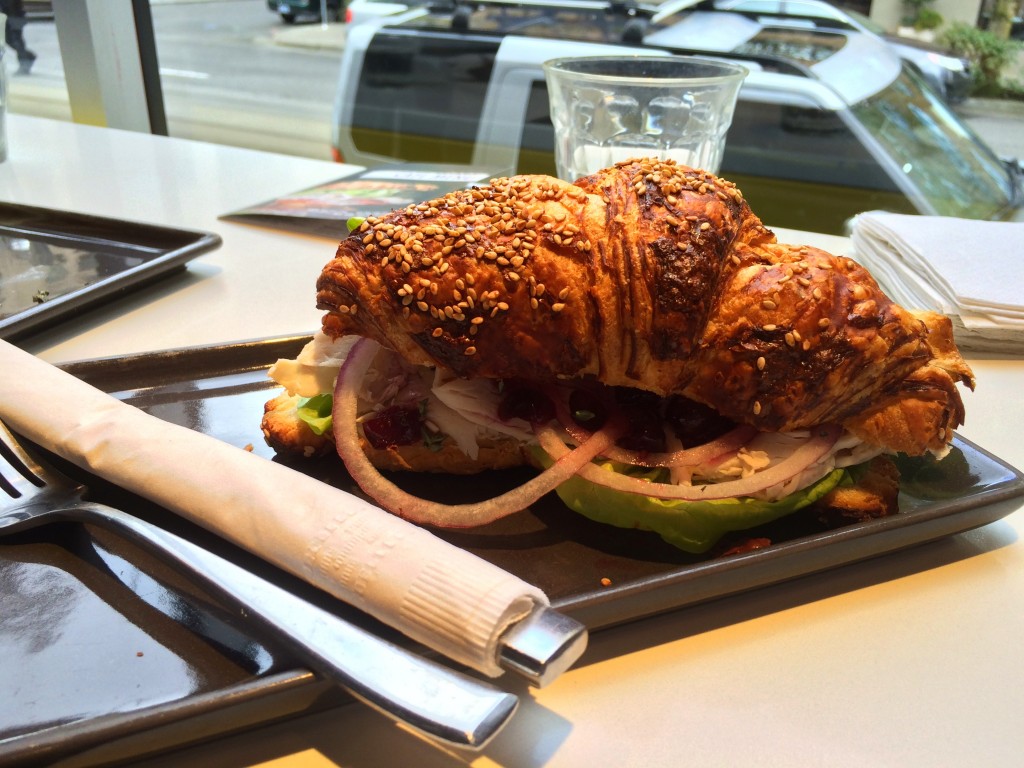 After a stroll through the innovative Tanner Springs Park (see activities section) and general wandering through the Pearl, we arrived at Heart Coffee. There are so many great coffee places to choose from in Portland, you really cannot go wrong. We chose Heart because it is one of the best, and also because the location fit perfectly with the morning's itinerary.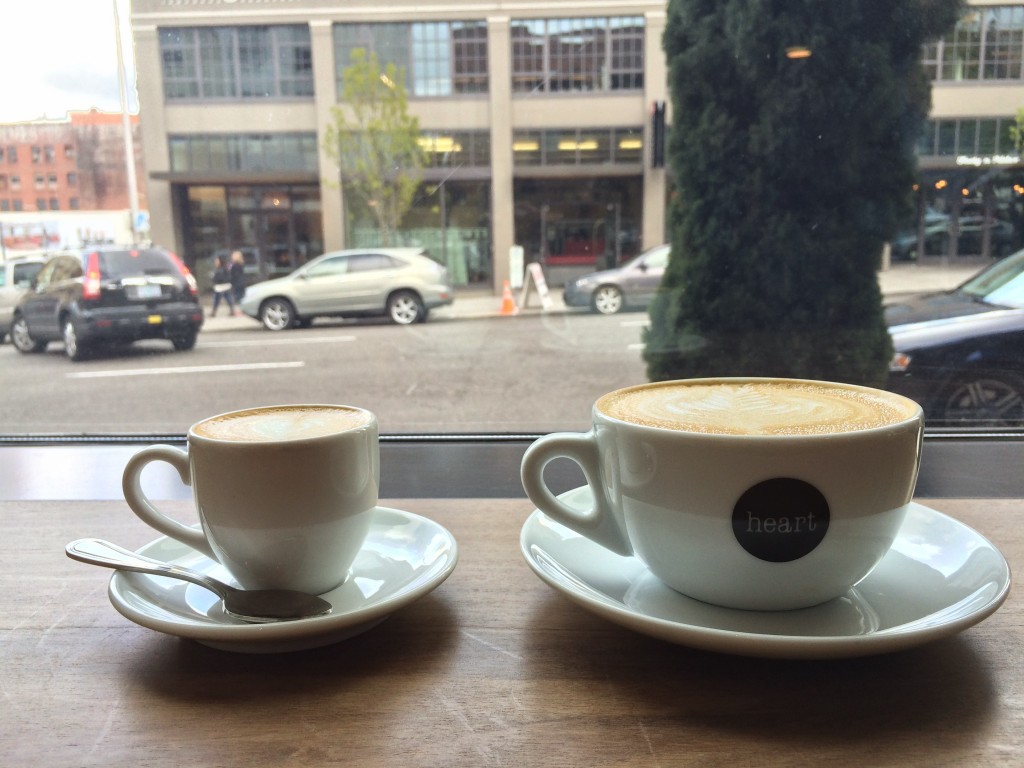 Located in southwest, Heart Coffee is a 10 minute walk from the Pearl and only 5 minutes from our next destination…
After breakfast I was eager to check out some of the innovative parks in the formerly industrial Pearl district. The Pearl has been seeing steady growth and revitalization since the area was re-classified from "industrial" to "mixed-use" in the 1980's. It is now a popular destination for artists of all types. Our first stop was Tanner Springs Park. Back prior to any development, the pearl district rested upon a river bed and spring system. This park reconnects with that past, designed to provide a natural filtration and storm water capture system.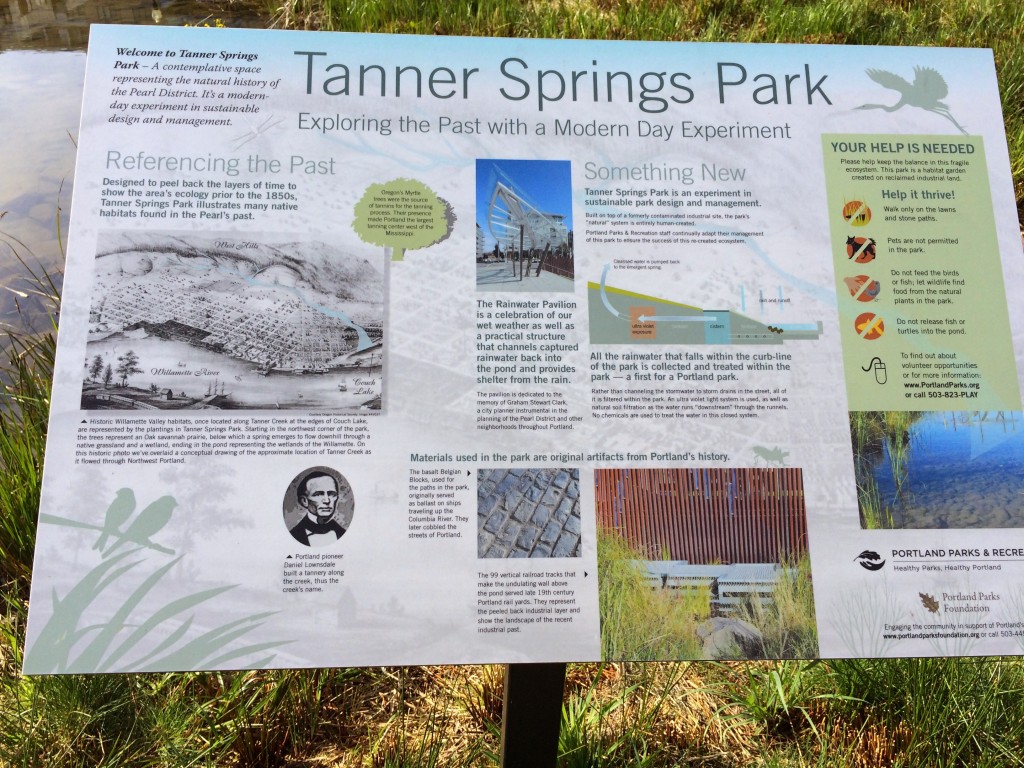 The park also connects with the Pearl's industrial past, using old industrial scraps and materials for all of its structures. The wavy wall seen below is made of railroad ties!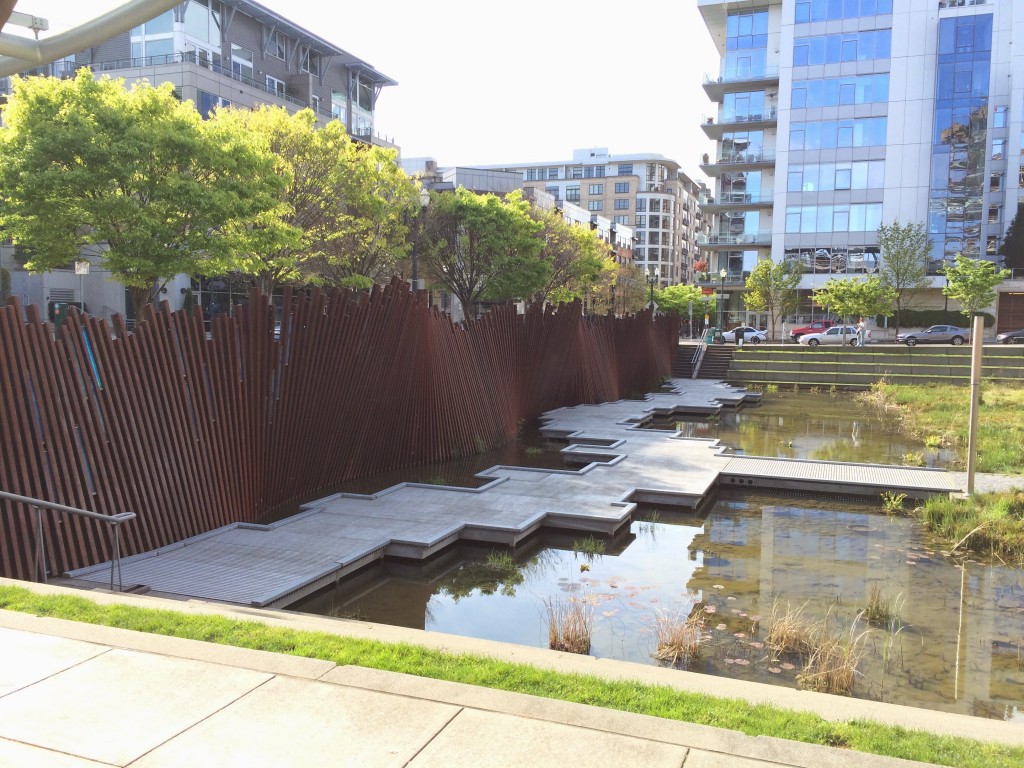 Our next stop, after the park and coffee was a Portland institution that no visit is complete without going to, Powell's City of Books.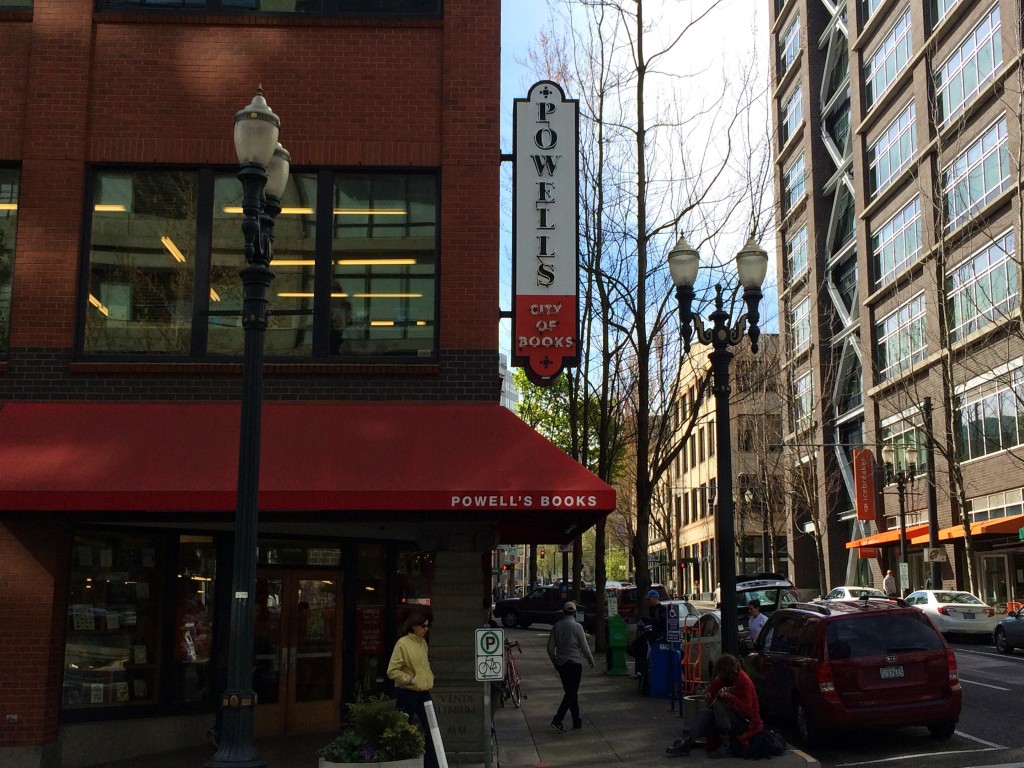 There is no way to describe the scale of this bookstore. I could get lost there for hours. Even my husband, not an avid reader like I am, found sections of books that appealed to him!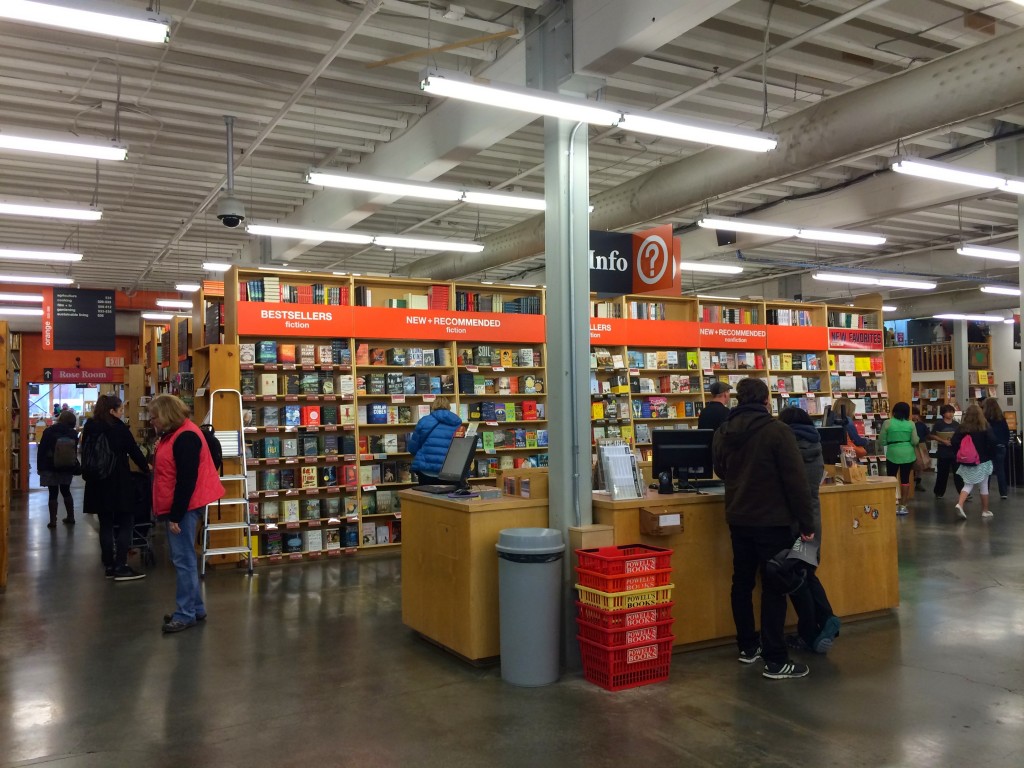 After about an hour we somehow managed to pull ourselves away and get to our final destination of the morning, Lan Su Chinese Garden. Want to truly feel like you have been transported to a place far far away? Check out the authentic Chinese garden in Portland's Chinatown, a 10 minute walk from Powell's.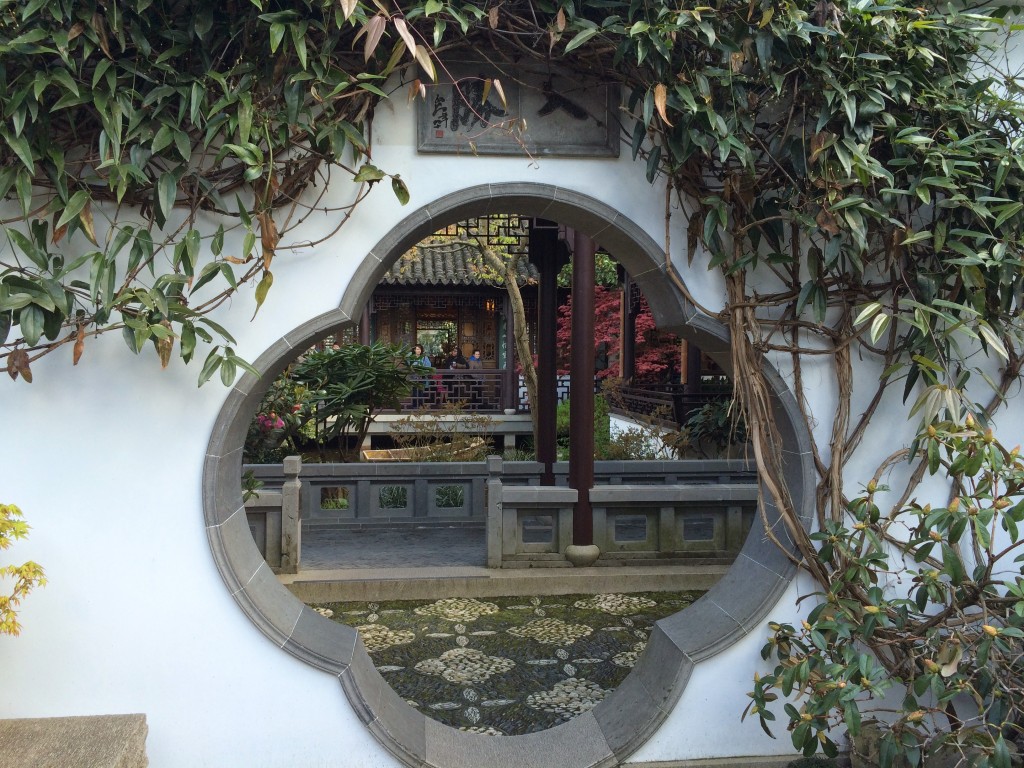 Chinese gardens such as this one have a rich history. The garden is the result of a collaboration between Portland and Suzhou, China. Suzhou, located just north of Shanghai is China's own garden city: world renowned for its many gardens. Admission is a bit expensive, at $9.50 for adults, but well worth it. Finishing up our morning in Chinatown left us well positioned to catch the light rail train at the Old Town Chinatown Station and take it back east across the river.
Overall, we had a lovely morning! We got to see a variety of sites, eat and drink tasty treats and even get in a bit of exercise!