Pafuri Camp, Return Africa (South African Safari Camp)
Advice on how to get the most out of your travels!
Great For:
Biodiversity
Elephant Sightings
Avoiding Crowds
Overall Rating (4/5)
Planning a Safari vacation to South Africa can be intimidating; there are literally hundreds of camps to choose from, with some prices topping $2000/night! I highly recommend including a stay at Return Africa as part of your trip. You may not see all of the big five (who can guarantee that anyway?) but you won't care because you will be able to enjoy a variety of landscapes, flora, fauna, birds and feel oblivious to the fact that Kruger National Park is a crowded tourist destination.
Return Africa's Pafuri Camp is located in the Pafuri Concession, the northern portion of South Africa's famous Kruger National Park. This Concession is owned by the Makuleke people and leased to the Pafuri Camp, meaning that a portion of profits go back to the local people and only those staying at Pafuri Camp or The Outpost (the other camp in the concession) are able to access this part of the park.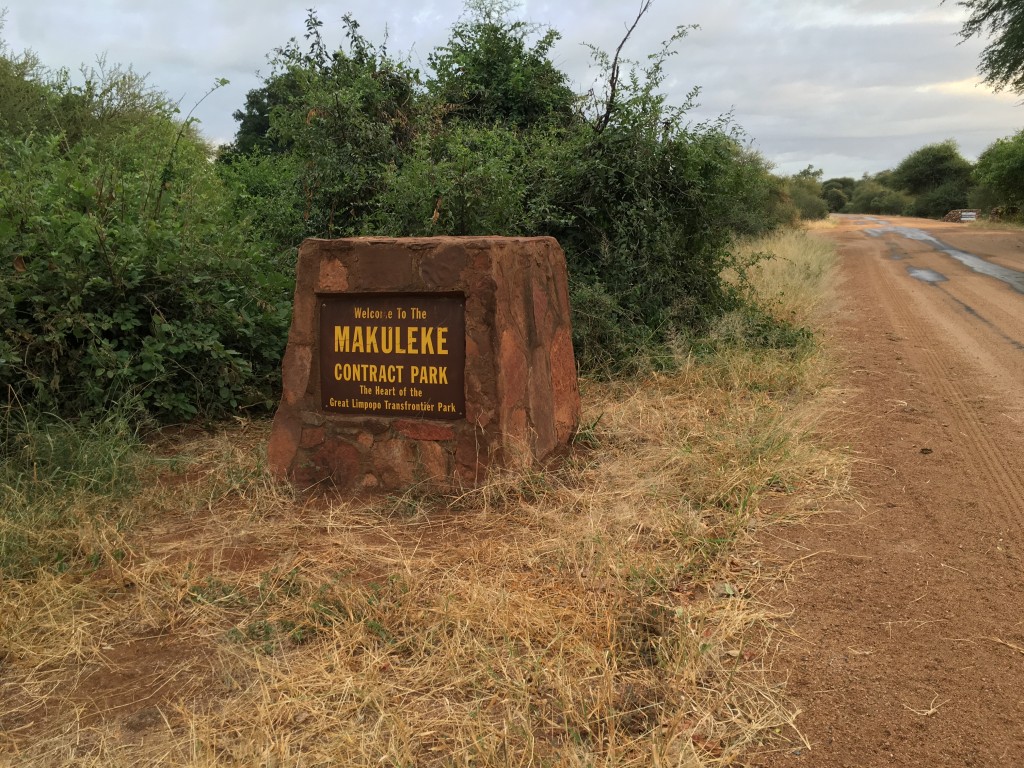 The drive to the northernmost tip of Kruger is time consuming but definitely worth it. On one hand, being within the concession means you will be able to focus your viewing on animals and not tourists. Also, this northern portion of South Africa borders both Zimbabwe and Mozambique and is known for its extreme biodiversity. Three quarters of the biodiversity of Kruger Park exists in this concession, along with over 400 species of birds and many different types of trees including the baobab, seen below.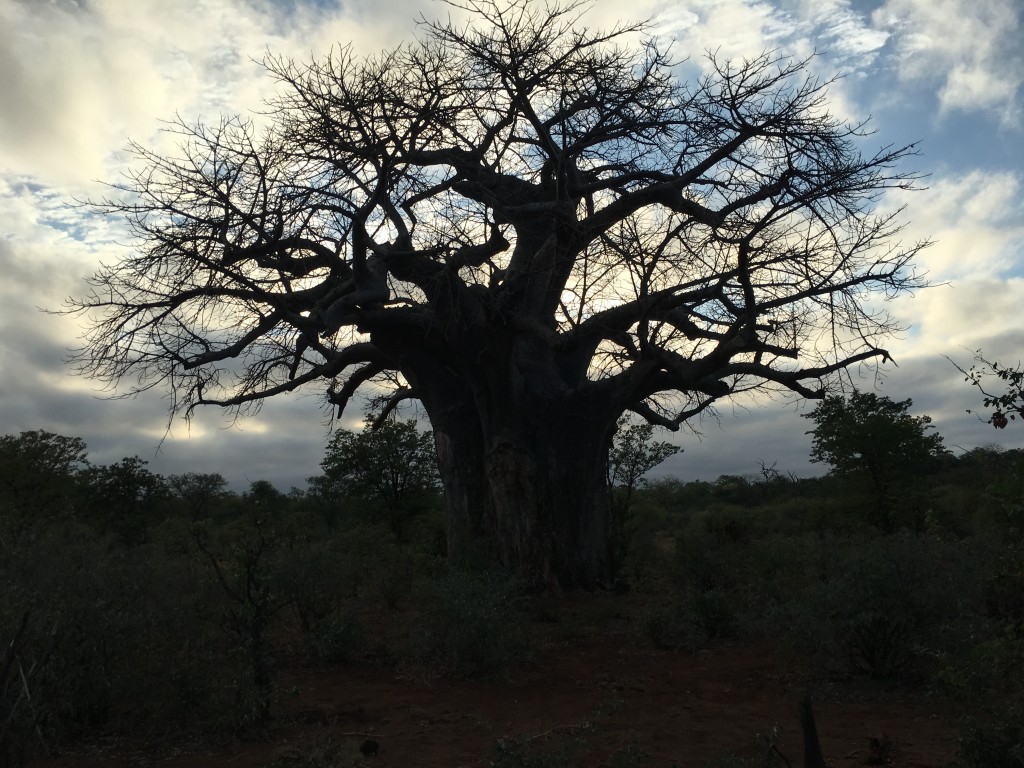 How to get there: (1) Drive from Johannesburg [7 hrs], (2) Private charter flight to Pafuri air strip [contact camp for cost], (3) Fly into "local" airports in Polokwane or Hoedspruit [4-5 hour drive].
One of the key reasons I chose Return Africa's Pafuri Camp was the link to the Makuleke people. These people lost access to their land during Apartheid and once their land was returned, they agreed to lease it to the Park rather than move back in. Therefore, Return Africa pays rent to the townspeople and share a portion of their profits. Additionally, they train and hire local people from the village to work at the camp. The staff have various levels of hospitality experience but I was generally impressed by the service. Our drive guide had a ton of knowledge and could spot 100's of species of birds from impressive distances.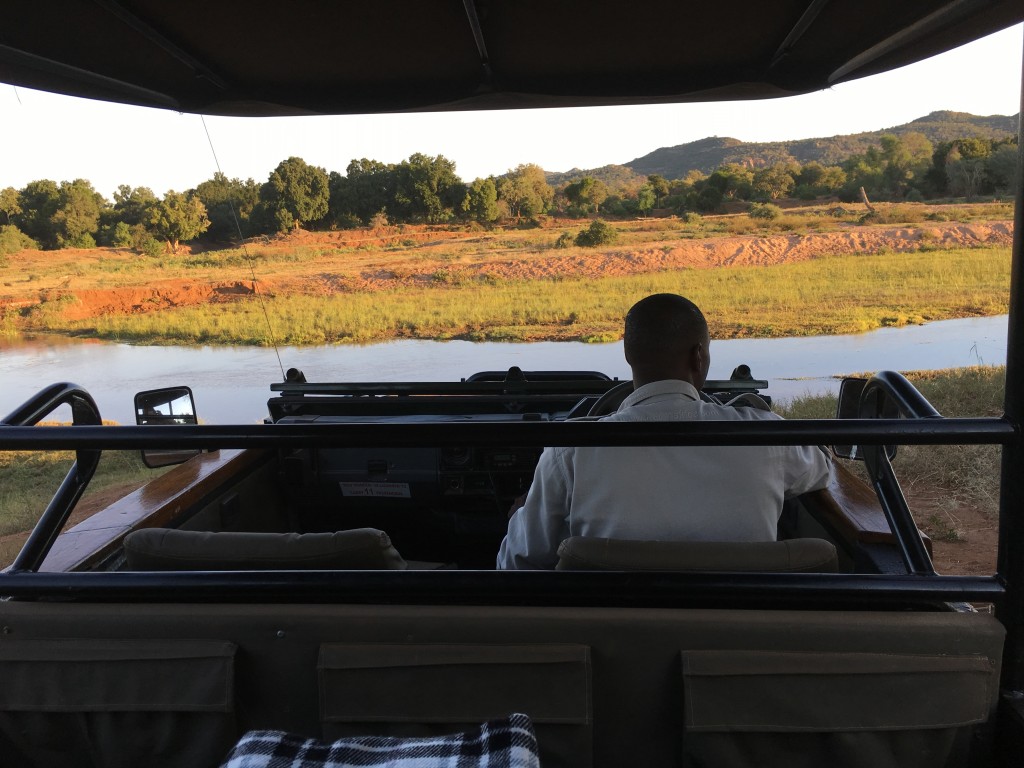 Nothing can compare to the stellar mid-drive coffee breaks…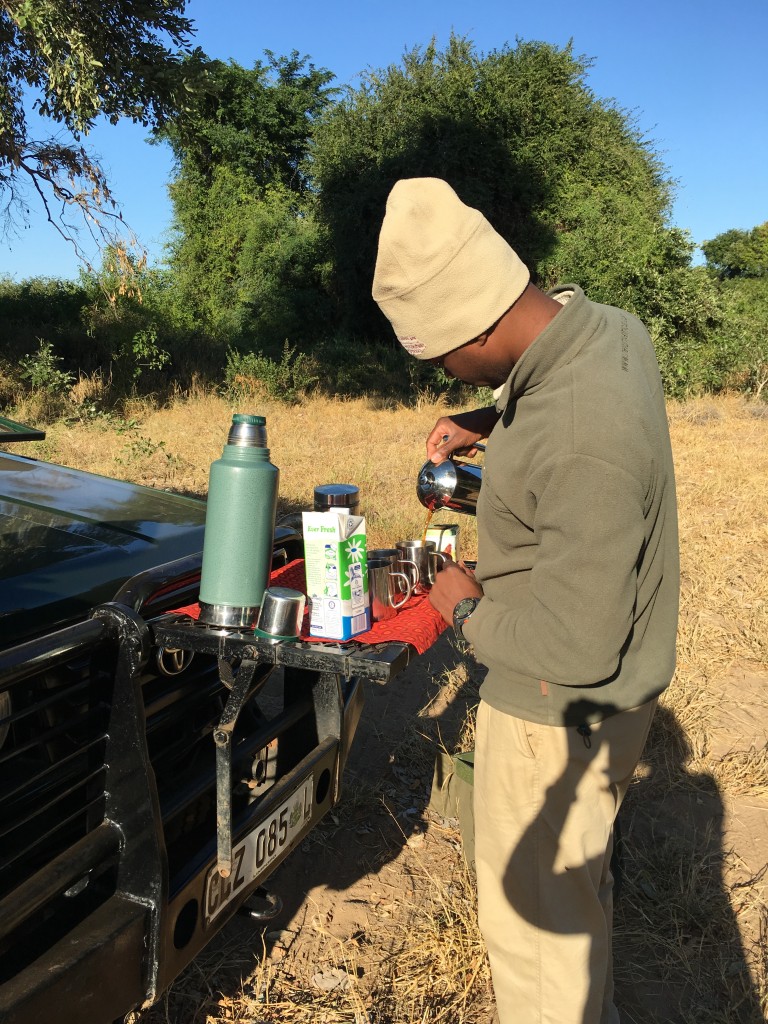 …except, the SUNDOWNER!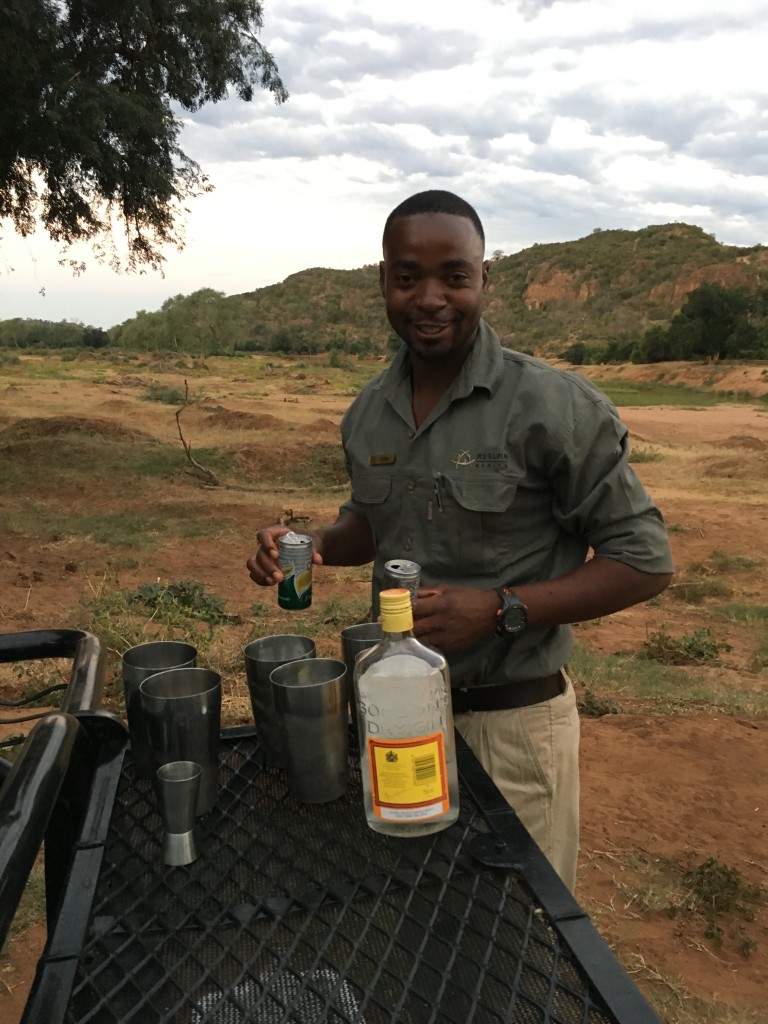 The Pafuri Camp features 19 luxury tent cabins, all located along the Luvuvhu river. We stayed in tent 3 and you had to look closely to be able to see evidence of tents 2 or 4; it was very private and secluded.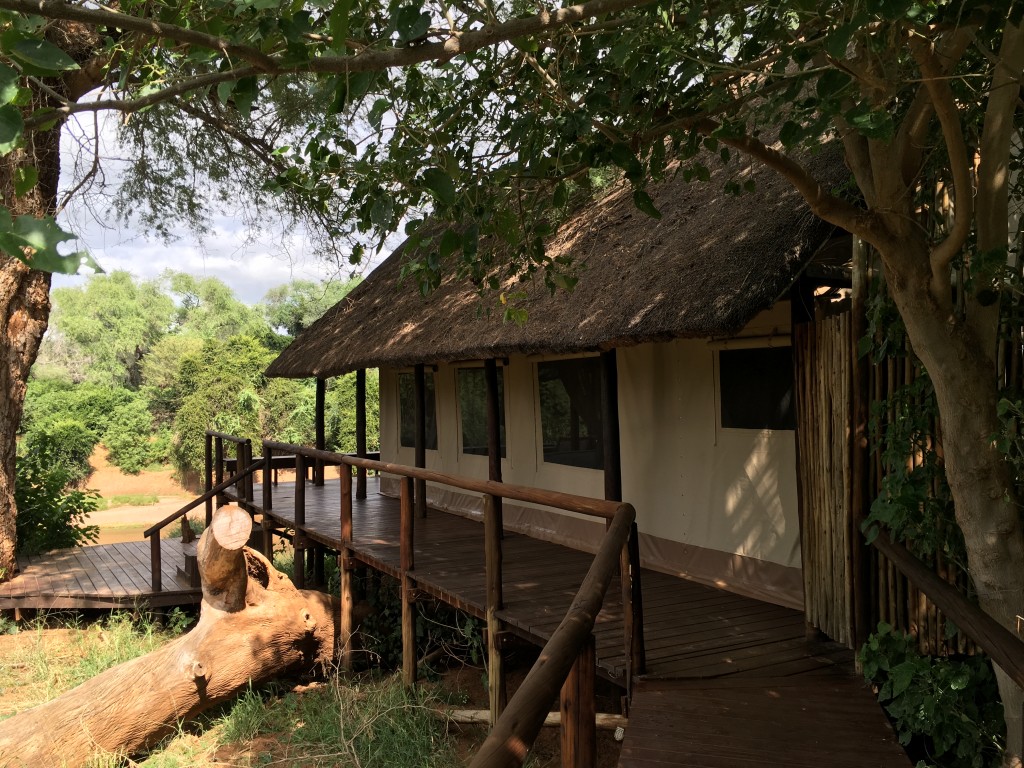 Our tent had a very comfortable king bed, equipped with mosquito nets.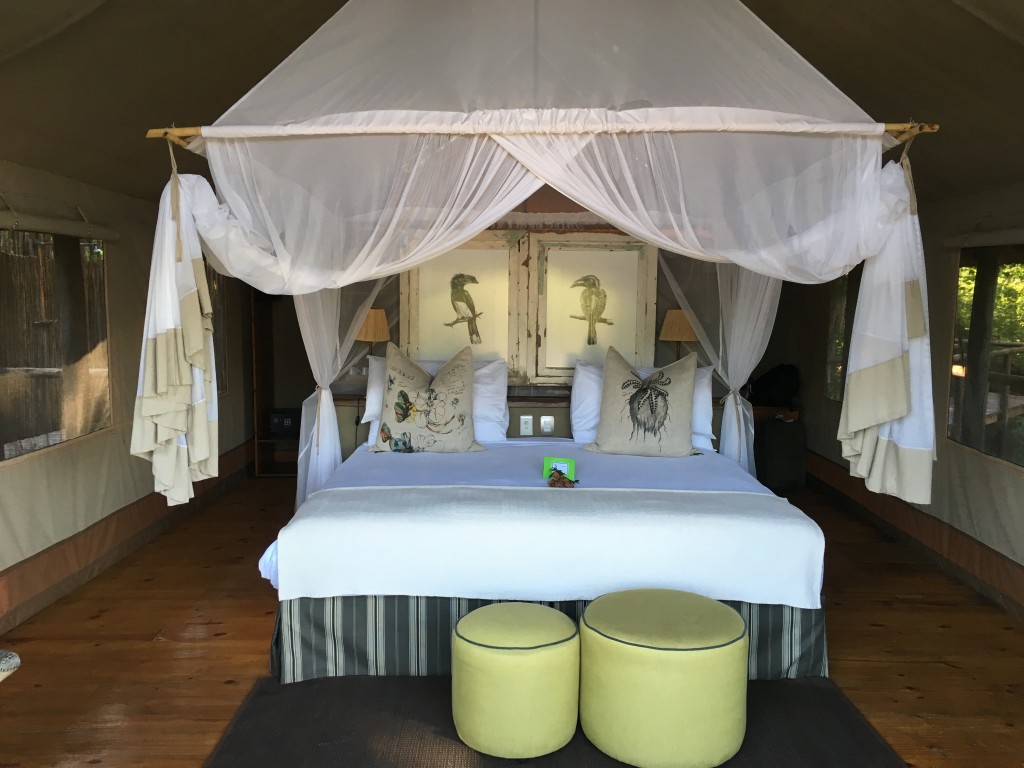 My favorite part of the tent was the expansive front porch. Our afternoons were spent with me doing yoga on the porch and my husband lounging with the binoculars, watching a herd of elephants bathe in the river in front.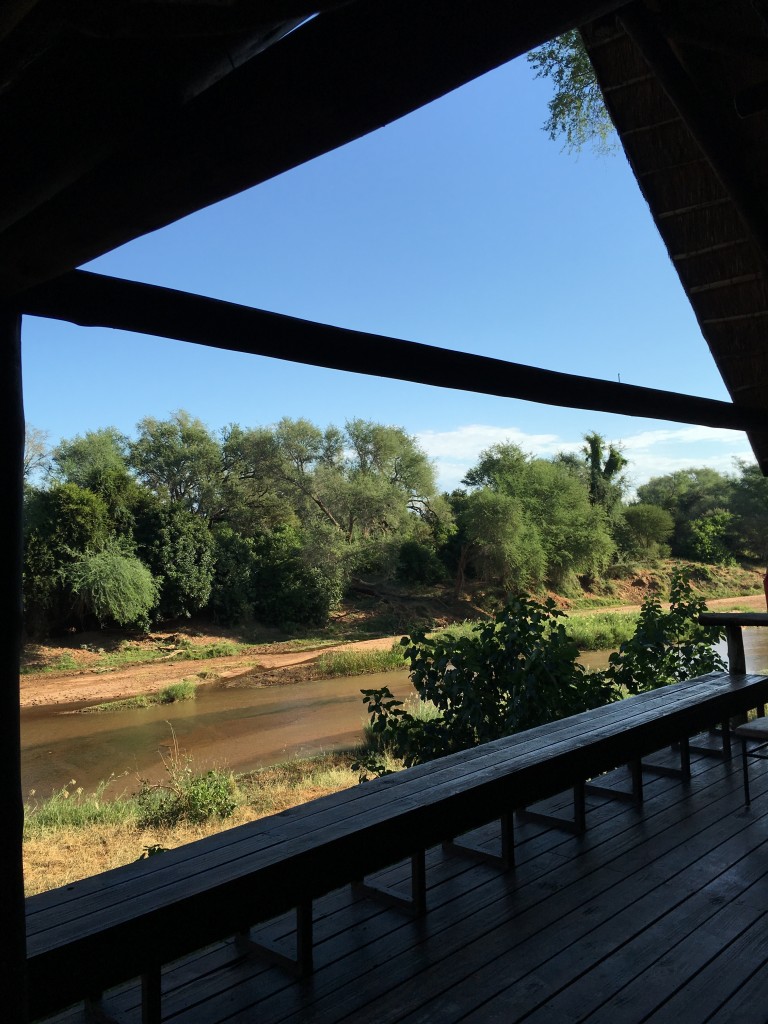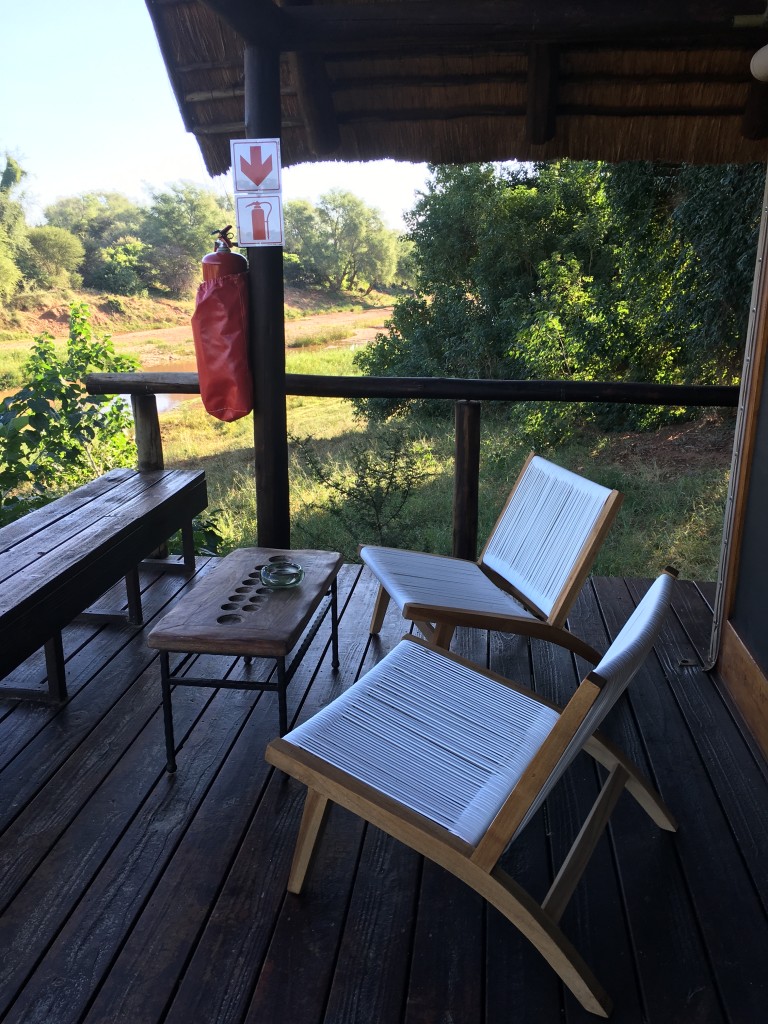 The room also features a desk…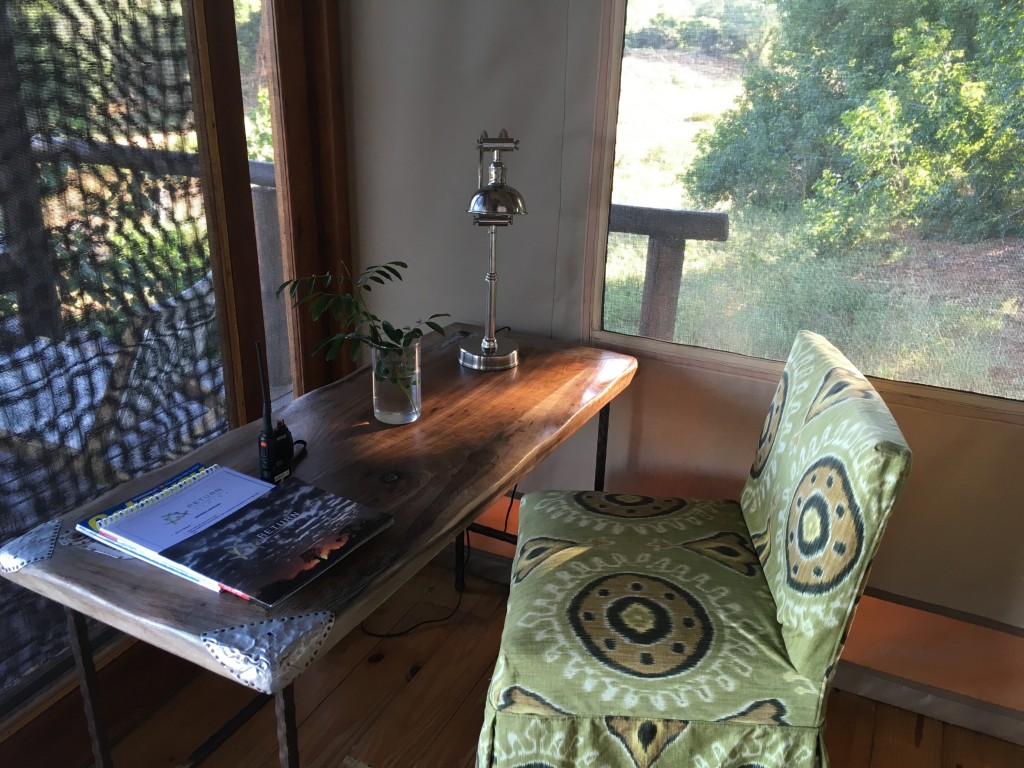 And dual sink…
You have two options for showering: indoors…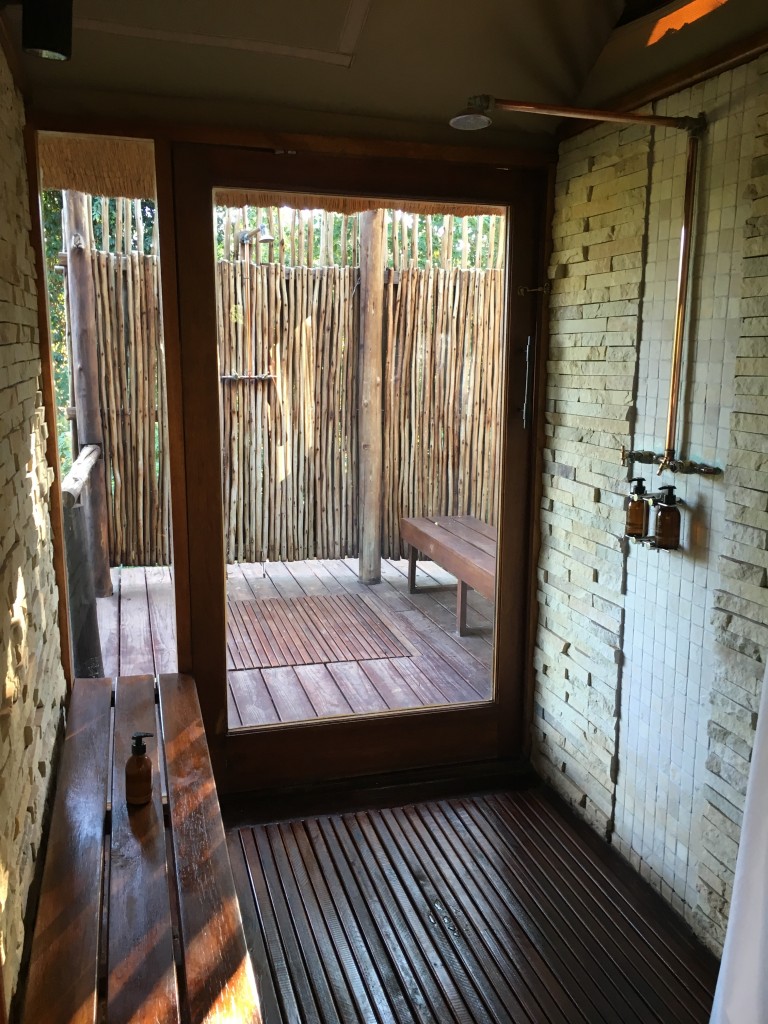 Or outdoors! Just beware to keep the shower door latched. The baboons attempted to use this door as an entrance into our tent on several occasions.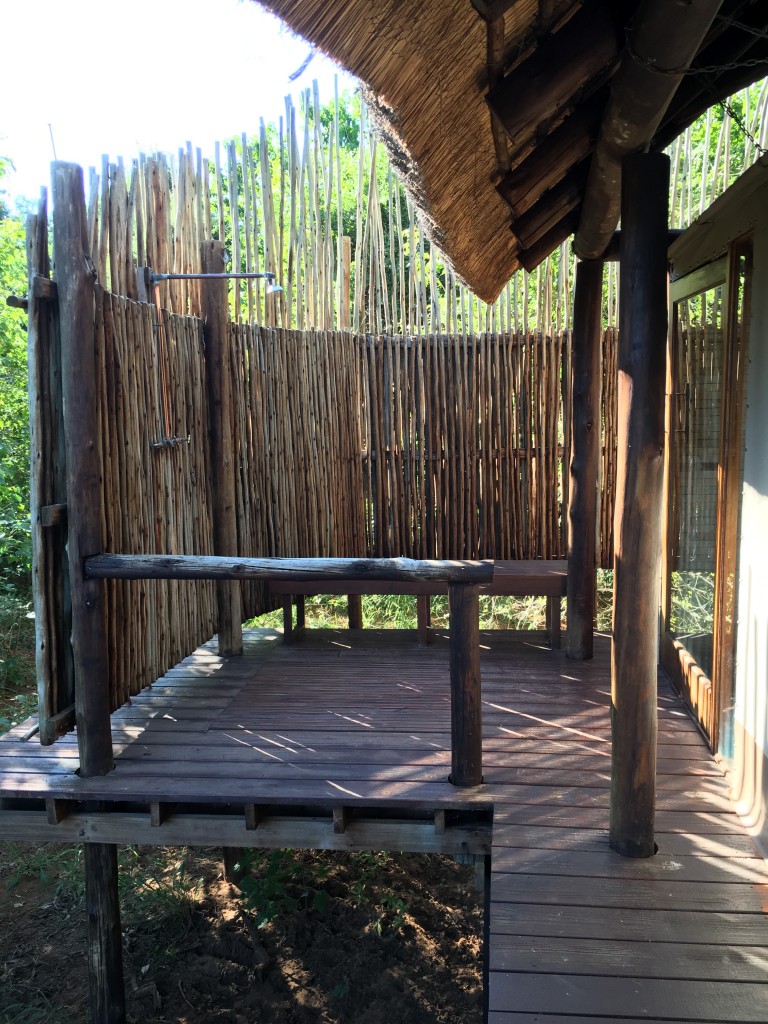 All in all the tent cabin was quite nice.
You ARE in the wilderness, remember, and we did spot some ants by the toilet. Luckily the ant spray provided in the room did the trick and we didn't see those suckers anymore after the first night.
Obviously the key reason for coming to Pafuri Camp is to enjoy the wildlife. Our expert guide was great at spotting animals, birds and plants and I loved that during our 3 day stay we were able to experience such a wide variety of game drives. See below for a friend we made on our first night.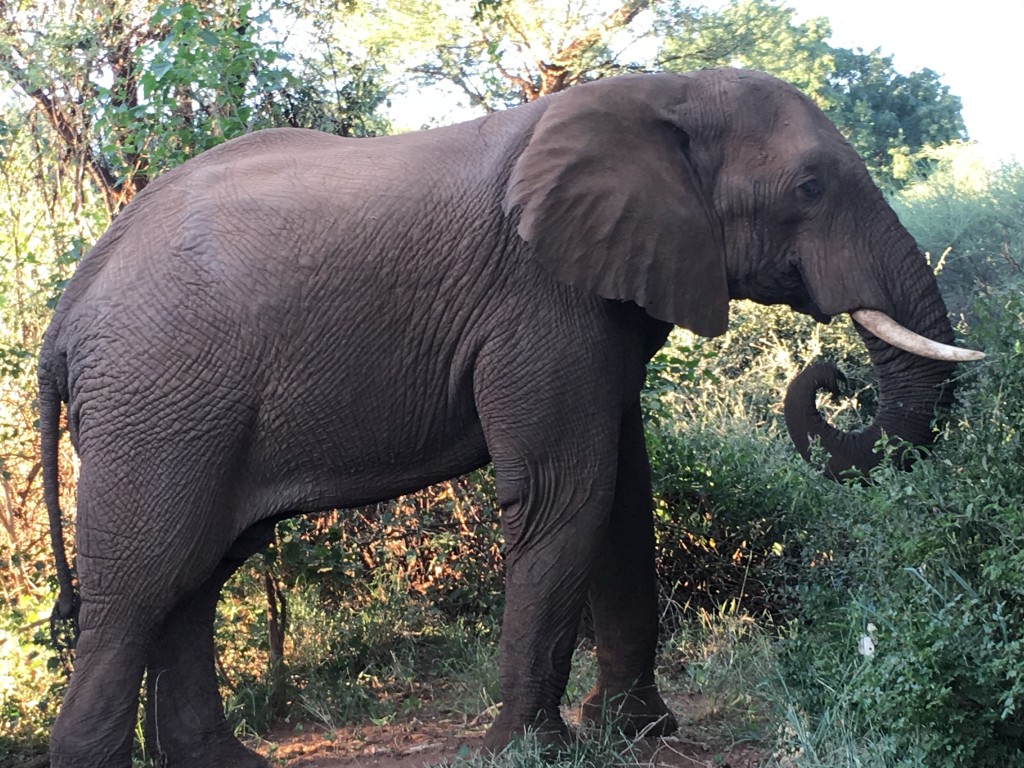 It's not 100% about the animals; at Pafuri you will also have the opportunity to see some special landscapes such as the canyon below: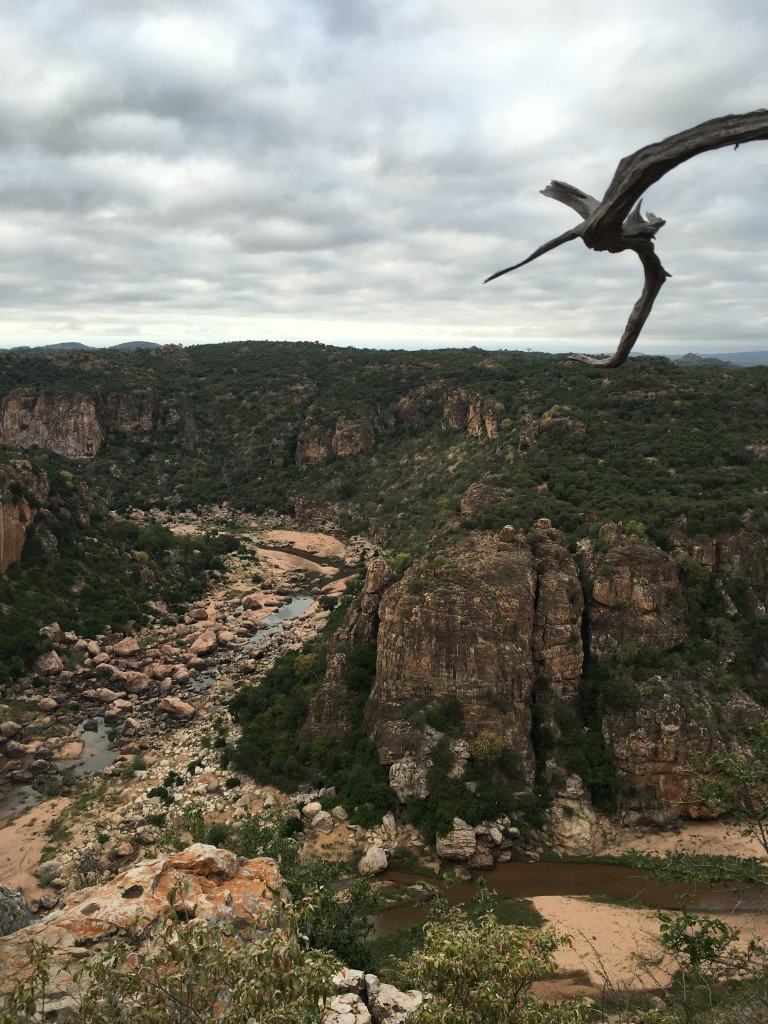 The food offerings were also quite satisfying. You will not go hungry during your stay. Each morning begins with coffee and muffins, then a post-drive made-to-order breakfast. At 3:30, high-tea/lunch is served and then after your afternoon drive you enjoy a three-course dinner.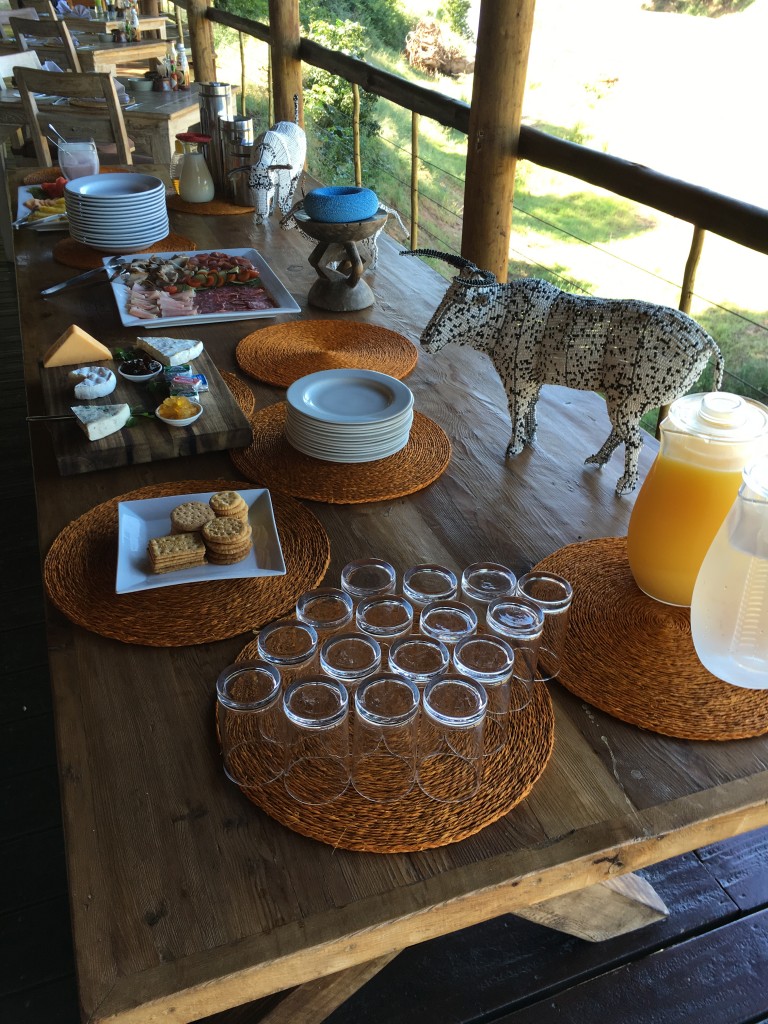 Each night's dinner was different but each featured tasty game meat and fresh locally grown vegetables.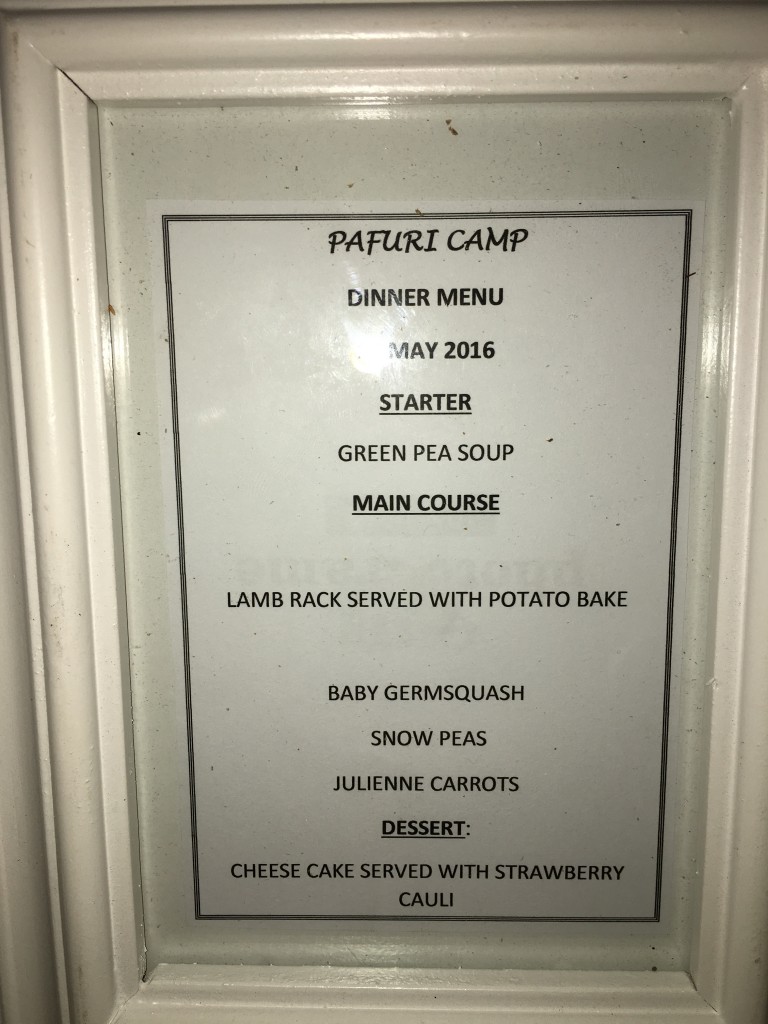 The camp also features a riverside pool, lounges and day beds; perfect for relaxing during the hours between game drives and meals. The intense schedule of game watching and eating can be quite demanding you know 🙂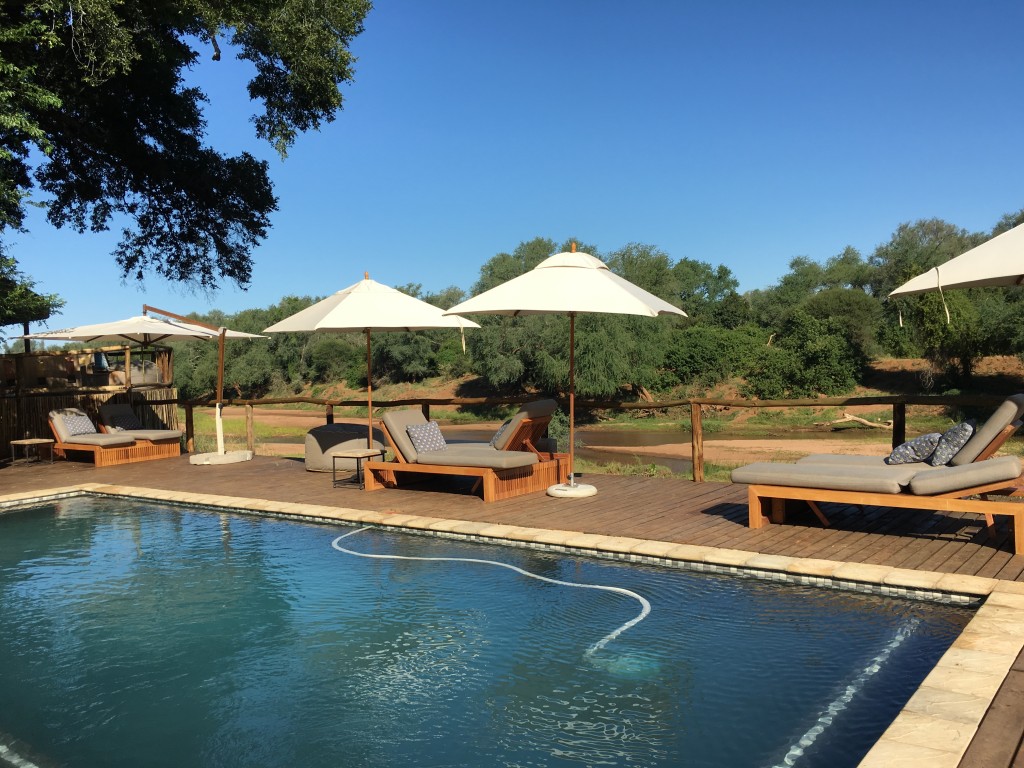 Safari camps can cost well over $2,000/night per couple. I was pleased with the value of Return Africa's Pafuri Camp. At $450/night per couple, the cost was on the lower end of offerings, however, our service was still outstanding. The location is definitely a bit farther than some other options but I'd say the extra hour's drive is well worth hundreds in savings. Not to mention the fact that this part of the park has a wider variety of landscapes, flora and fauna.
One thing to note is that the alcohol is not included in the price, that even includes the drinks provided as your sundowner during the afternoon game drive. While I completely understood that our wine at dinner was a la carte, I was a bit surprised to see the bill at the end of the stay itemized based on the gin and tonics we consumed during our game drive. In the end, a small price to pay.